Markets
Tons of seafood get stuck in border due to China's tight control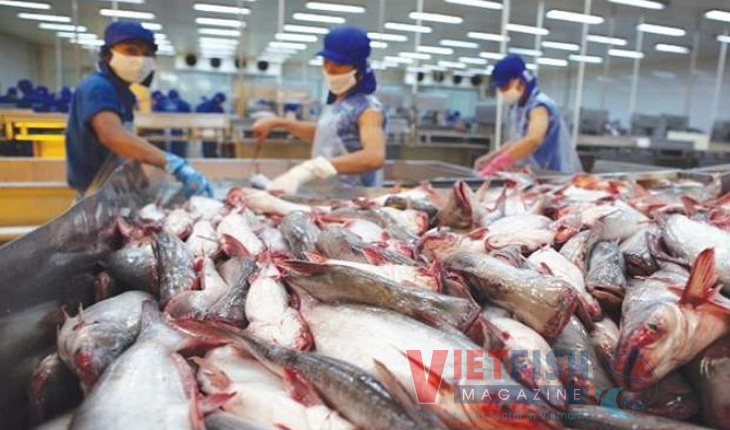 China is officially launching transregional and transnational logistics blockchain on seafood, leaving stagnant status of hundreds of tons of Vietnam's exported seafood at the border gate.
Lots of cargo got stuck
Tons of seafood that have got stuck at Móng Cái border in Quảng Ninh province without clearance include 129.21 tons Khánh Hòa's shrimp, 34.32 tons of Bà Rịa-Vũng Tàu's cuttlefish and fish, 60 tons of Tiền Giang's snapper, and 14 tons of Phan Thiết's dried shrimp, according to competent authorities at the border station.
The situation was resulted by China's change in regulations of origin management that Vietnamese companies fail to adapt in a short time, leaving lots of cargo got stuck at the border gate or being returned.
The Official Document no.5388 sent by Quảng Ninh People's Committee to competent authorities clearly stated changes in border trade policy that China adopts to imported seafood.The document said that a transregional and transnational logistics blockchain model had been launched for seafood services in Hongshi commune of Quangxi, China in 2018. To facilitate the model, China's authorities issued new regulations of origin management, presentation, specification of product labels, packaging, verification and inspection of quality.
Vietnam's products without being inspected in China will be refused for border trade, particularly seafood products (jelly-fish, marine fishes), ingredients from bone-meal, seaweed, and medicine.
All farmed or exploited fish must come from factories registered by Vietnamese companiesand certificates must be granted by Vietnam's Government.
All seafood and marine products must be packed and labelled carefully (excluded ice-glazed products). The remarks in labels must include commercial and scientific names, presentation, production date, lot number, preservation conditions, production method (exploitation, aquaculture), production area, name and code of processing companies – People's Republic of China.
To deal with changes made by China, Khanh Hoa provincial People's Committee has sent an official document requiring Departments of Agriculture and Rural, Industry and Trade, Information and Communication, provincial Bureaus of Customs, People's committees of coastal districts, towns and cities, and relevant sectors and institutions for their proactive examination and settlement of stand-by matters to prevent farmers and companies from suffering damages.
Keep changing from 1/10/2019
General Administration of Customs of People's Republic of China has changed their policies in managing and inspecting imported products for many times since mid 2018. It has just given Notification no.70/2019 regarding the management and surveillance of labelling the products exported to China, becoming effective since 01 October 2019.
No requirement for records of labels of products that are exported to China for the first time from 01 October 2019. The Chinese buyers must guarantee that labels on imported products comply with domestic regulations, administrative requirements and food safety standards.
Packed products will be accidentally taken sample for testing at site or in the laboratory. Buyers need to prove their imported products whether they satisfy import requirements by handing in original documents and Chinese versions to customs officers.
Deputy General Director of Plant Protection Department under Ministry of Agriculture and Rural Development Nguyễn Quý Dương said China would keep changing their import policies which will affect companies failing to adapt requirements of package presentation and labelling.
VFM