News
Bạc Liêu: Expand the shrimp-rice farming area up to more than 43,000 ha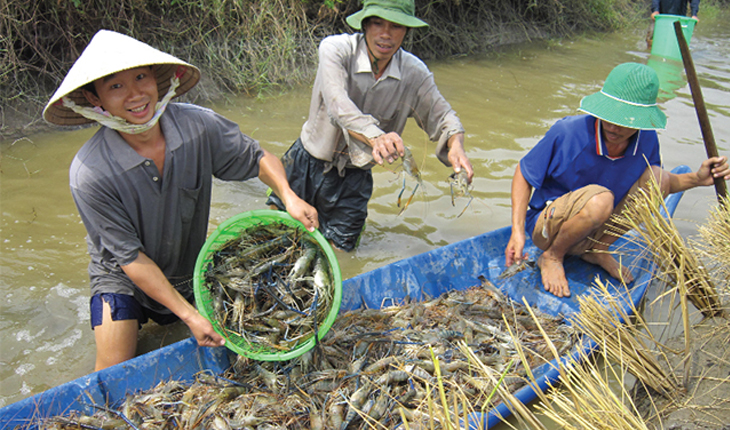 Bạc Liêu is planning to expand the shrimp-rice farming area up to 43,000 ha by 2025. As many as 39,000 ha is being used with the average output of 5.6 tons/ha in the province.
Lưu Hoàng Ly, Director of the Bạc Liêu provincial Department of Agriculture and Rural Development said that the shrimp-rice farming model will be multiplied when the second phase of the Cái Lớn and Cái Bè projects is completed and some sewage systems are built to prevent salinity intrusion from the north of Quản Lộ, Phụng Hiệp. Bạc Liêu has arranged the shrimp-rice farming area as the land of "fragrant rice – organic shrimp" and planned to produce organic shrimp and rice. 
Phước Long district spent 13,677 ha in shrimp-rice farming in 2021. Hồng Dân district focused on cultivating rice on shrimp ponds of over 24,770 ha in September 2021.
The shrimp-rice farming model has been highly evaluated in terms of sustainability and effectiveness for years; however, it has not brought high economic efficiency and taken advantage of full potential and strength. There are shortcomings. Firstly, the design of shrimp-rice farming ponds fail technical specifications. Secondly, the environment is easily and seriously polluted due to overuse of pesticides. Thirdly, many farmers do not notice the origin and quality of broodstocks, resulting in low economic efficiency over a unit of area. 
The project of "Improve the productivity of black tiger shrimp with shrimp rice rotation model in Hồng Dân district" was experimented in earlier 2022 in 3 ha of land by three households in Lộc Ninh commune of Hồng Dân district. It was carried out in "two phases, entirely closed, using products upon the Bồ Đề biotechnology and microbiotechnology and adding industrial feed to shrimp nursery ponds"  
The stocking density is 5 pcs/m2 and shrimp are stocked in two phases: the first phase with 3 pcs/m2 and the second phase with 2 pcs/m2. Post larvae are nursed in a nursery pond within 20-25 days before being stocked in the shrimp grow-out pond. Industrial feed is added during the nursery. The Bồ Đề biotechnology and microbiotechnology are used to manage the environment upon technical specifications. 
Farmer Trần Văn Nam in Lộc Ninh commune of Hồng Dân district said that he had participated in the shrimp-rice farming model for years but that was the first time the productivity of shrimp had been that high and shrimp had weighed up so fast. In his opinion, this is really an effective production model and makes a great contribution to the protection of the environment.
VFM