News
Quảng Nam fishermen enjoy bumper tiny shrimp season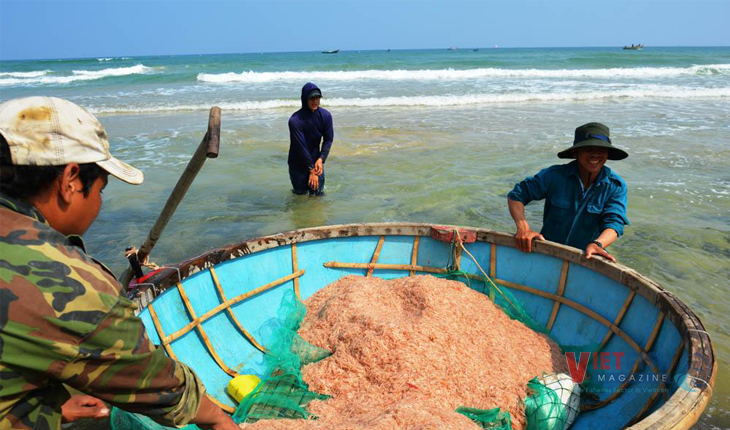 Fishermen in coastal communes of Duy Hải and Duy Nghĩa in the central province of Quảng Nam are happy with the ongoing bumper tiny shrimp season, as a fishing boat can earn a few million of VNDper trip.
The atmosphere in the two communes in Duy Xuyên District is bustling. Although it is the start of shrimp season, the fishermen are taking advantage of the weather to go to sea.
According to many local fishermen, this year's season has come later than usual. "Normally, the tiny shrimp season starts in the first lunar month, but this year has fallen on the fifteenth day of the second lunar month," Nguyễn Văn Tài, a 60-year-old fishman said.
The shrimp fishing season usually lasts only 1-2 months. Favourable weather has created good conditions for local fishermen to go to sea and bring in lucrative hauls.
Fisherman Lê Văn Chín, living at Village 3, Duy Hải Commune, said that for four days, he and his two sons have been out at sea. A daily trip starts at 5am and ends at about 1pm. "On one day, we can get a maximum of a tonne of tiny shrimp and a minimum of 100kg," Chín said.
"Our boat goes about one nautical mile, then we drop the nets at a depth of about 5-6m to catch tiny shrimp.These days, all members of my family are involved in the trade. My two sons and I go to sea, while my wife dries shrimp in the sun to sell to the traders."
Fishermen, after pulling in their nets full of shrimp, they will return to shore. Then a fisherman will use a small conical boat to carry the shrimp ashore and sell to traders on the beach.
The price of fresh shrimp ranges from VNĐ20,000-30,000 (US$1.30) per kg, and dried tiny shrimp from VNĐ60,000-90,000 per kg. Four kilos of fresh shrimp can create 1kg of dried shrimp.
At current prices, Chín and his family can earn more than VNĐ10 million a day, and a minimum of VNĐ1 million a day.
Stir fried shrimp with star fruit and deep-fried spring rolls mixed with shrimp are popular dishes in the area.
VNN