News
Bạc Liêu: Farmers harvest giant river prawn amidst high price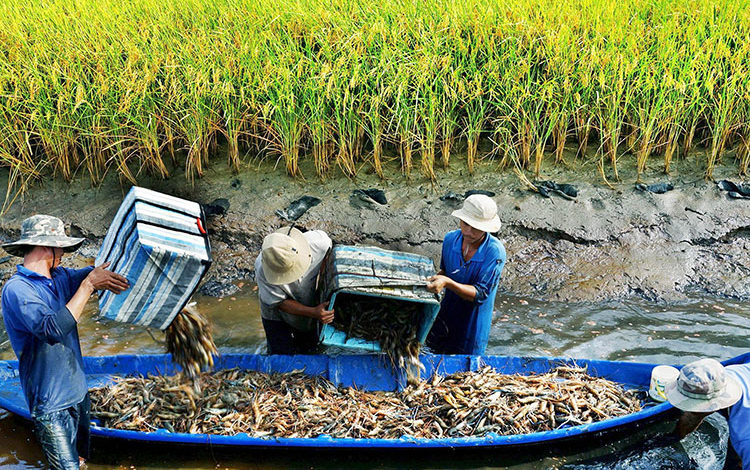 Farmers in Hồng Dân district are happy to harvest giant river prawn from rice fields as the price of this species is on a rise.
Farmers in Vĩnh Lộc A commune have just harvested giant river prawn on rice fields which were then sold at pretty high prices, 120,000-150,000 dong/kg, up to sizes (mainly 10-15 count prawns at 135,000 dong/kg). They could earn tens of million dong per hectare after costs.
Farmer Đặng Văn Tức in Vĩnh Lộc A commune said: "My family harvested giant river prawn from the 2ha rice field with productivity of nearly 500kg/ha. We earned nearly 130 million dong in revenue and over 60 million dong in profit after costs". In his opinion, those prawns grew well thanks to favorable weather conditions and weighed up to the size 10-15 pcs/kg just after five months. Prawns of this size were priced at 130,000 dong, 30,000-50,000 dong/kg higher than last year.
Nông Văn Thạch, Director of Ba Đình Agriculture Cooperative in Vĩnh Lộc A commune shared that the Cooperative had 83 member communes with 150ha of farming area in total, producing two crops of prawn and one crop of rice. About 50% of the farming area has been harvested with productivity of 450kg/ha. The selling price was ranging at 120,000 dong/kg (for 12-15 count prawns); therefore, farmers could earn 20-25 million/ha profit after costs.
Under the evaluation of local farmers, rearing giant river prawns is easier than other marine species amidst such a climate change. Harvest can be carried out just after 4.5-5 months. Black tiger prawns can be reared together with other species such as black tiger shrimp and white leg shrimp. This method helps farmers earn extra money and take use of feed in the grow-out pond.
Võ Minh Huy, officer of the Office of Agriculture and Rural Development of Hồng Dân district said that the district had over 13,000ha of farms related to rearing giant river prawn together with rice. As of September 21, nearly 4,500ha had been harvested with the average output of 450-500 kg/ha. The price of giant river prawn was high, ranging between 120,000 and 150,000 dong/kg up to sizes; therefore, local farmers could earn 40% profit.
VFM