News
Bình Định deploys four synchronic task groups to tackle IUU fishing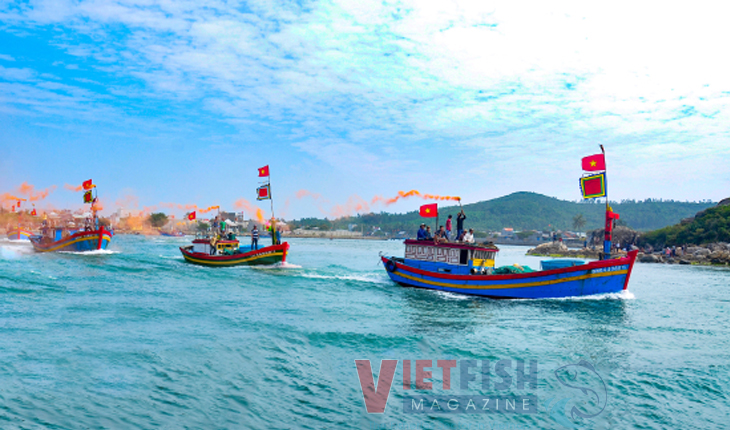 Bình Định is deploying four synchronic task groups to tackle fishing boats in contravention of IUU regulations before EC's delegations come to Vietnam for the third inspection.
Bình Định provincial People's Committee held a Mar.06 meeting with the Steering Committee to implement the Directive 45 by Prime Minister about fighting against the illegal, unreported and unregulated (IUU) fishing in Cát Minh commute People's Committee (Phù Cát district). The attendees are leaders of relevant departments, agencies, people's committees of coastal districts and cities, and fishermen of five coastal communes of Phù Cát district.
Vice Chairman of Bình Định provincial People's Committee Trần Châu evaluated that the province had been mounting an effort to carry out multiple solutions to IUU fighting and achieved good results. However, there are still fishing boats in contravention of IUU fishing regulations with many of them lacking papers and committing to fishing trawls while the installation of supervision cameras fails to catch up with the demanding schedule.
Mr Châu, therefore, requested departments, relevant sectors and local authorities to focus on deploying the four synchronic task groups which are (1) strict implementation of Fisheries Law, (2) strictly tackle the fishing boats trespassing foreign water territory, (3) speed up the installation of supervision cameras into fishing boats, (4) management of exploitation of marine and ocean resources, arrival and departure of fishing boats, and traceability. He called for fishermen to raise their awareness in rules, legal exploitation regulations, and mutual efforts in removing the "yellow card".
"EC's inspection delegation is expected to come to Vietnam at the end of May or early June this year. It is possible that they will visit Bình Định to check its improvements in combating IUU fishing. Thus, relevant departments and agencies, coastal local authorities must mount their efforts in IUU fighting. Bình Định must try its best to record no fishing boat trespassing foreign water territory and impose heavy fine and announce boundary-violating behavior verdict on violated boats", said Châu.
VFM