News
Slump in seafood price causes increasing difficulties to farmers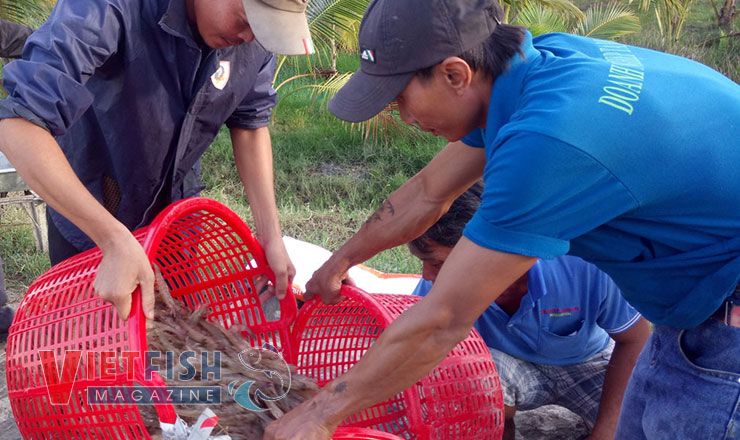 Lower yield of exploited fish and slump in price due to exports of seafood being stopped up have caused increasing difficulties to farmers.
Kiên Giang province owns 63,000km2 fishing grounds, more than 100,000 fishing boats, 50% of which are offshore ones with high capacity. However, marine natural resources have been depleted, leaving inefficient exploitation of many boats.
According to statistics by Kiên Giang Agriculture sector, for the last ten years average exploitation capacity of local fishing boats has been decreasing from 0.253 tons/hp (2008) to 0.206 tons/hp (2018).
Besides, the exploitation efficiency is affected by high rate of trash fish and unimproved preservation after catching. Many boat owners struggle to stick to the ocean but slump in marine fish price has causedincreasing difficulties to them. Chairman of Rạch Giá City Fishery Society Trương Văn Ngữ said "They suffer from major loss after coming back from the ocean because the price dropped to 30-40% as compared to the previous months".
According to Ngữ, slump in price was recorded in marine fish exported to China. Prices of frozen whole fish (material fish) are falling sharply. Thus, farmers suffer from loss due to big difference between revenue and cost. Price of dried cuttlefish is rather stable due to low output. "A pair of boats might bring back 2-3 tons of cuttlefish after a trip before, but now it is hundreds of kilograms", said Ngữ.
Quảng Trọng Thao, Deputy Director of Kiên Giang Provincial Agriculture and Rural Development Department said that the province has a solid team of boats, but many owners are facing increasing difficulties, such as depleted marine resource, lack of crew for the fishing boat and recent slump in price due to disadvantageous export. Sharp drop was recorded in whole fish raw material exported to China. The fact that conventional fishery with manual labors is being replaced with modern fishery with advanced machines makes fishermen confused.
Traceability for exported marine products is somehow difficult. Marines products from Tắc Cậu port of Châu Thành district and An Thới of Phú Quốc island district are officially recognized origin by the provincial authorities. So marine products bought in elsewhere will not be certified legal origin, causing difficulties in direct export for seafood producers.
Moreover, exploited fishes which are bought in neighboring provinces and transported to the province through river are not certified origin. "As regulated, legal traceability is carried out upon the fishing boat which is legally registered, equipped with surveillance camera and granted exploitation license", said Thao.
Cà Mau's aquatic products are estimated to reach 286,500 tons by June 2019, up 4.4% year on year, accounting for 51.2% of the plan. Shrimp yield is expected to reach 93,350 tons, up 6.7% year on year, accounting for 44.8% of the plan.
Catching products are estimated to reach 115,000 tons, up 7.1% year on year, accounting for 57.5% of the plan, with shrimps being expected to reach 5,450 tons, down 22.7% year on year and accounting for 43.6% of the plan.
However, China's strict control over Vietnam's exports of agricultural, forestry and fishery products through border trade has forced Vietnamese businesses to change to direct export. Many businesses and shrimp farmers feel concern for price drops in material shrimps and are afraid of expanding shrimp ponds due to possible loss.
Slump in price is recorded in material black tiger shrimps which are sold at 250,000 – 260,000 dong/kg for shrimp sized 20 pcs/kg (down 70,000 dong/kg year on year); 180,000 – 190,000 dong/kg for shrimp sized 30pcs/kg (down 70,000 dong/kg year on year), and 150,000-160,000 dong/kg for shrimp sized 40 pcs/kg (down 20,000 dong/kg year on year). White leg shrimp sized 100pcs/kg alone is sold at 92,000-92,000 dong/kg (up 8,000-10,000 dong/kg year on year).
VFM