News
Cà Mau: Loss of black tiger shrimp due to drought and salt intrusion, farmers shift to white leg shrimp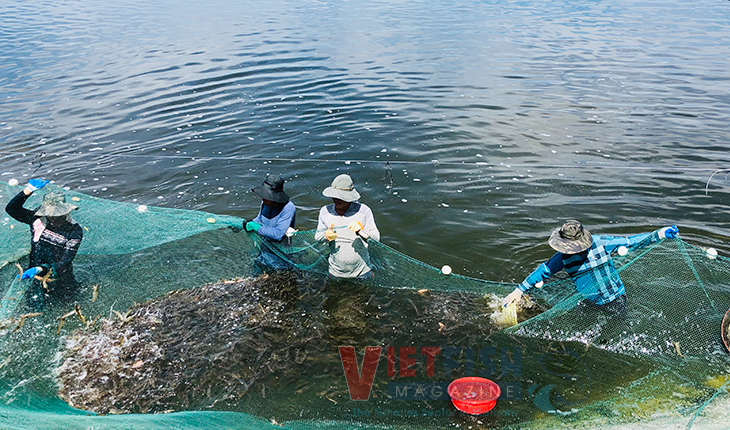 In Thới Bình district of Cà Mau province, black tiger shrimps in crop 2019-2020 weighed up slowly and prices are not stable, leaving farmers a serious loss. On the other hand, local farmers got an abundant crop of white leg shrimp.  
Nguyễn Văn Hiện, Head of the Lê Hoàng Thá hamlet of Tân Bằng commune said: "My family stocked black tiger shrimps in more than 2ha but they didn't grow up due to summer heat and increased degree of salinity, forcing us to make an early harvest when shrimps reached the size 70-80pcs/kg and were priced at more than 70,000 dong/kg. That crop was breakeven and time-consuming. That was the first time my family and local farmers had suffered from loss at the first crop of black tiger shrimps. Moreover, in this 2019-2020 summer heat, black tiger shrimp farmers didn't get an abundant crop, especially after Tet Holiday, they suffered from serious loss because shrimps were small and unsold. Meanwhile, buyers of shrimp material in communes and hamlets reduced their purchases. My family and some farmers decided to shift to white leg shrimp cultivation".
Suffering from a failure in 4hs black tiger shrimp pond, farmer Lê Minh Toàn in Sông Cái hamlet of Biển Bạch Đông commune, shifted to stock more than 150,000 white leg shrimp post larvae. After two months, he harvested nearly 3 tons and earned nearly 200 million dong. He said that along this Channel 500, local farmers had used to reared black tiger shrimp; however, since an increase in salinity, leading to tardiness of shrimps, consecutive risks and farmers shifting to white leg shrimp with abundant crops.
In Oc 2020, Nguyễn Văn Tống, in hamlet no.2 of Thới Bình commune, stocked black tiger shrimp in a 5ha pond; however, after nearly three months, shrimps grew slowly, so he decided to rear white leg shrimps. "This practice didn't bring good results as we didn't master farming techniques. After learning, we have harvested more than 10 tons of white leg shrimp since Tet Holiday and earned more than 600 million dong", said Tổng.
Trịnh Thanh Luận (in Trương Thoại hamlet of, Biển Bạch commune) said that white leg shrimp farming practice is new to local farmers. This practice is easy for caring and convenient, with farming techniques being more simple than black tiger shrimp cultivation, thus, it attracts many farmers. "In the last white leg shrimp crop, after nearly 2 months of stocking, my family harvested more than 1.2 tons of shrimp from a 3ha pond and shrimps weighed up to size 100 pcs/kg and were sold at 70,000 dong/kg. We earned nearly 70 million dong profit after production costs", said Luận.
Nguyễn Trang Nghiêm, Chairman of People's Committee of Biển Bạch Đông commune said that according to statistics of the commune, the white leg shrimp practice has been developed in a total area of 4,000 ha. The flexibility of local farmers and the change to new suitable species helped Thới Bình survive through this year's summer heat and the ineffective black tiger shrimp crop.
Nguyễn Hoàng Lâm, Head of the Office of Agriculture and Rural Development said: "The total farming area of white leg shrimp has been increasing. The estimated output of this crop may reach 20,000 tons. High yield of white leg shrimp will compensate for the insufficient amount of 10,000ha of tardy black tiger shrimp material. The district is proposing to set up a project of rearing many species or culturing many plants in the same field so as to raise income of local farmers in the face of overwhelming COVID-19 pandemic.
VFM