News
Long An: Earn more than 100 million dong from 1ha of hitech shrimp farm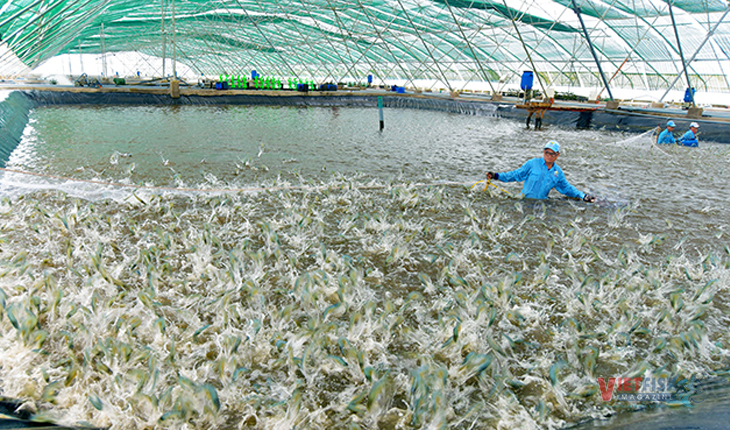 Long An sets a target of having more than 6,800ha of brackish water shrimp farm as of the end of 2020, with 200ha of hitech farm. The output is estimated to reach over 15,000 tons, valued at 1,180 billion dong.
Since earlier this year, Cần Đước district has spent 11.3 billion dong building and rehabilitating 13 electricity utilities to power up shrimp farms in Long Hựu Đông, Long Hựu Tây and Tân Chánh.
Together with the power network, Cần Đước Electricity station has improved more than 3,980m of one-phase wire to three-phase wire, set up 5,590m new medium-voltage wires, 12 stations of 1,660kv; and 5,234 new low-voltage wires. Likewise, farmers are advised to install a single-purpose transformer station. There are all 83 single-purpose transformer stations with capacity of 5,047kv.
Nguyễn Hồng Chương, Head of Cần Đước district's Agriculture and Rural Development Office said that the district has more than 400ha of industrial shrimp farm. Some cooperatives apply a two or three-phase shrimp cultivation method, producing 5-10 tons/ha. Remarkably, one cooperative of hitech shrimp farms produces 25 tons/ha, earning 100-130 million profit.
Cần Giuộc's Agriculture Service Center together with People's Committee of Phước Vĩnh Tây commune held a workshop to summarize the two-phase hitech cultivation method using inland nursery pond in farmer Vũ Hồng Hải's place (in hamlet 2 of Phước Vĩnh Tây commune).
This model involves a 135m2 nursery pond and 2,000m2 grow-out pond. After 87 days of stocking, shrimp weighed up to the size 35 pcs/kg, with an output of 4 tons, much more than that produced from a traditional pond.
"With this model, shrimps weigh up fast being provided with enough oxygen, improving their vital resistance, reducing early death, and bringing in high yield. Thus, I will continue with this model in the next crops", said Hải.
Ngô Bảo Quốc, Head of Cần Giuộc district's Agriculture and Rural Development Office said that the district has now 10 communes related to shrimp cultivation with a total grow-out pond of around 2,200ha, producing an average of nearly 5,000 tons per year. There are 21 households applying advanced technology in their shrimp farms of 22ha.
According to Đinh Thị Phương Khanh, Deputy Director of the provincial Agriculture and Rural Development Department, during 2020-2025, the province will build a centralized brackishwater shrimp farming area in Cần Đước, Cần Giuộc, Tân Trụ and Châu Thành districts, with an aim to achieve a sustainable shrimp sector.
As much as 1,244 billion dong will be invested into a brackishwater shrimp farming area in the period 2020-2025, with 588 billion dong being used to rehabilitate, improve and build new broodstock production facilities, centralized shrimp farming facilities and tested units.
Around 33.4 billion dong, disbursed from the province's budget, will be used for environmental survey and warnings, disease management, technology and science transferring, and trade promotion. More than 624 billion dong will be mobilized from socialization to improve, rehabilitate and build new shrimp farming facilities, buy post larvae, feed, and machines.
Khanh said that the province will focus on making hay while the sun shines on the existing brackishwater shrimp farm, together with reorganizing the production based on technology and science application which helps carry out 3-4 crops per year, improving the output, quality, value, protecting the environment and developing in a sustainable way.
VFM