News
Seafood enterprises are ambitious for revenue of thousands of billion dong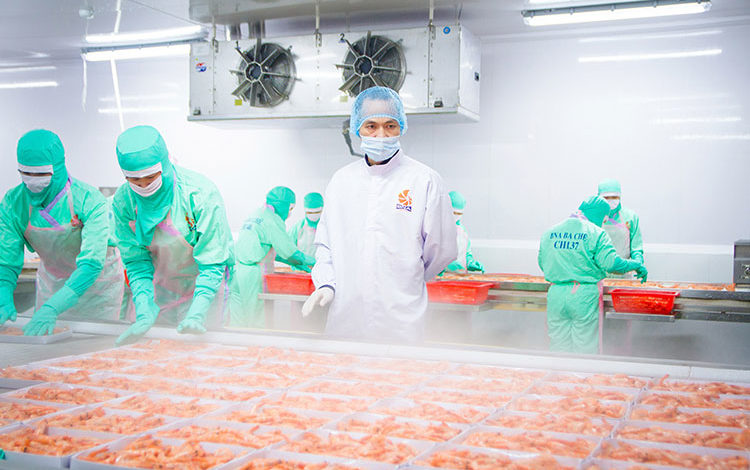 Many seafood enterprises set targets of achieving thousands of billion dong revenue at the annual general meeting in 2022. Fisheries is one of the industries to be expected to grow by experts, despite ongoing difficulties.
According to statistics by the Ministry of Agriculture and Rural Development, in quarter I of 2022, the export value of agricultural, forestry and seafood products was estimated to reach over USD 12.8 billion, up 15.3% from the same period last year. The seafood export value was estimated to reach USD 2.4 billion, up 38.7%, with the export value of pangasius alone reaching USD 606 million in this quarter, up 82% and the export value of shrimp reaching USD 929 million, up 39.7%.
Pangasius is the key product of Vĩnh Hoàn Corporation which brought a revenue of VND 617 billion in the first three months of 2022, increasing by 30% as compared to the same period last year.
At the recent annual general meeting 2022, the Corporation set a target of achieving a net revenue of VND 13,000 billion, up 44% from the same period last year and a profit after tax of VND 1,500 billion, up 46%. This has been the highest target since the Corporation's listing.
The IDI International Development & Investment Corporation (IDI) has just announced the 2021 annual report with promising results, in which the 2022 revenue is estimated to reach VND 8,301 billion, up 45% from last year and revenue from pangasius fillet is forecasted to reach nearly VND 4,100 billion. Profit after tax is estimated to be over VND 900 billion, a sixfold increase as compared to last year, with the largest amount, VND 666 billion, coming from pangasius fillet. 
Seafood exports are expected to fully recover in 2022 by experts. Besides the US, China will play an important role in Vietnam's pangasius sector in the second half of 2022. The Chinese market is going to open with the consumption of pangasius being as much as the US after the pressure during two years of the pandemic.
VASEP gives a forecast that, in quarter II of 2022, pangasius exports to major markets will achieve an impressive growth, especially in the EU market where the demand for pangasius rises amidst competitive prices and some market segments of white meat fish such as codfish and pollock can be filled by Vietnam due to short supply from Russia.
According to VASEP, the food crisis is happening in the EU with prices skyrocketing upon stagnant supply chains, blooming demand, and a severe situation in the global energy market due to the ongoing tension between Russia and Ukraine.
VFM