News
Extru-Tech Introduces New Vertical Cooler Upgrade Option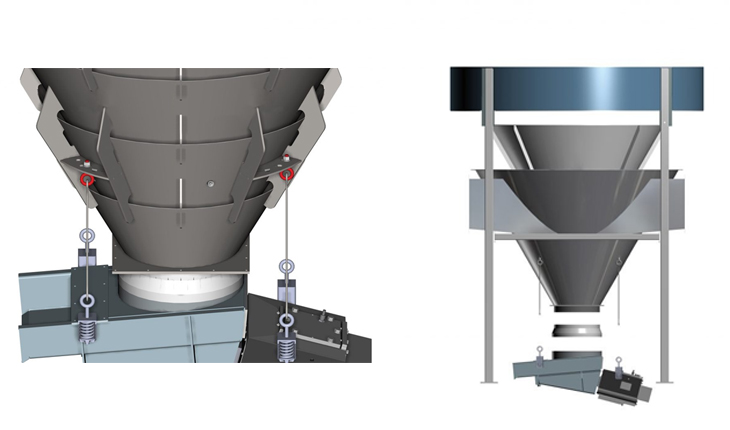 Centered around an Advanced Feature Sanitary Cone, a new Vertical Cooler Upgrade Option, recently introduced by Extru-Tech, Inc., promises a new level of food safety and cleanability. While the primary focus of the upgrade was on the ability to provide a safer, more consistent product customers should also benefit from less cost and downtime for cleaning and improve cooling ability.
According to Norm Schmitt, corporate sales manager for Extru-Tech, the new Advanced Feature Sanitary Cone, is similar in design to the cone used on the next- generation Advanced Feature Vertical Cooler.
"In this case, though, the Advanced Feature Sanitary Cone was designed to replace both the Internal perforated cone and the solid external cone used on older (pre 2014) vertical coolers, with minimal modifications," Schmitt relates. "The Advanced Feature Sanitary Cone features a "Cone-In-Cone" design, which not only allows for 360-degree air entry but provides much greater cleaning access than the internal perforated cone that was very problematic to clean."
As Schmitt explains, the design engineers also incorporated cost savings and compatibility into the upgrade design wherever possible. For example, the new Advanced Feature Sanitary Cone height is the same as the older cone, which means the overall height of the cooler will not change. In turn, that means the height of the existing cooler legs will not change, and the product inlet and discharge points will remain the same. Plus, the new cone has been designed with reinforcements to allow the feeder to hang from the cone using the existing tension cables.
In addition to the Advanced Feature Sanitary Cone, the Vertical Cooler Upgrade includes a new continuous laser level probe assembly, which provides continuous, accurate and reliable level control inside the cooler. A variable frequency drive (VFD), which is required to regulate airflow through the Advanced Feature Sanitary Cone during the cooler fill cycle, will also be provided if the cooler fan is not already equipped with a VFD. Lastly, existing controls will be upgraded or modified to regulate the fan speed, based on the product level in the cone.
Extru-Tech, Inc., headquartered in Sabetha, Kansas, currently produces and markets one of the industry's most complete lines of extrusion processing systems, along with a full line of ancillary equipment and customized equipment solutions for specialized processes. Since 1985, Extru-Tech has installed extrusion systems worldwide, designed for the production of human food, pet food, aquatic feed, and animal feed products.