News
Hi-tech shrimp farming booms in Quang Ninh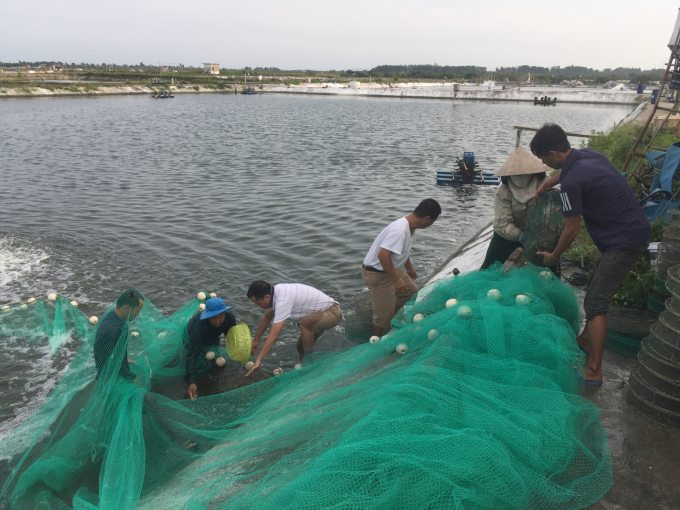 Households in the northern province of Quang Ninh province have applied high technologies in their shrimp farming, earning billions of dong each year.
Households in Mong Cai Town apply advanced techniques and high-tech models in shrimp production and farming. Photo: Anh Thang.
Cao Duc Hung, in zone 4, Binh Ngoc Commune, Mong Cai Town installed his four hectares of shrimp farm with technologies under VietGAP standards to ensure his products meeting all criteria the fisheries sector. Hung installed a water recirculation technology, wastewater treatment and collection, warning systems, and environmental monitoring in all his ponds to control disease.
He said: "I have been cultivating shrimp since about 2000s. Years ago, as I did not know how to apply science and technology, the productivity and quality of shrimp were not high and I often faced with problem of the diseases on shrimp."
He added after learning from other local farmers' experiences and participating in training classes, he got to know the new techniques and applied to his farm.
As another example, Nguyen Van Dung in Binh Ngoc Commune, started the high tech in his intensive farming of white-legged shrimp since 2012 after being trained by the Mong Cai City's Fisheries Association.
Dung harvested nearly 10 tonnes of commercial shrimp and earned the profit of nearly VND600 million (US$26,086) from the first 0.6 ha in the first crop. After seeing the benefit of the intensive shrimp farming model, Binh has applied it in more shrimp farm area, adding compared to extensive farming, it could save more food and water wile better control the diseases in the farm.
Meanwhile, the farming time of the new model is shorter, he can raise two crops instead of one crop a year, increasing the productivity. Intensive shrimp production was ten times higher than the extensive farming. Therefore, Dung harvests more than 20 tonnes of white-legged shrimp, earning the profit of more than VND2 billion (US$86,900).
He shared: "Farmers need to check the shrimp farm everyday to see if there are any abnormal symptoms so that they could handle immediately," adding he would expand the intensive shrimp farming to more area".
Many advanced farming technologies
Up to now, Quang Ninh Agricultural Extension Center has introduced many models that helped change the traditional low-yield shrimp raising in the local area.
As a pilot of a mobile raising tank under the phase 2 of the white-legged shrimp of the centre, Tu Van Nam in Cong Hoa Commune, Cam Pha District, has invested and been transferred technology in shrimp farming. Now, Nam's income is of two to three times higher than what he had in the previous crops, the rate of alive shrimp is higher and they grow more healthily.
Nam said: "The advantage of a mobile tank is an easier management. As farmer can move and resize the raising tanks, they can minimize the risks of natural disasters and epidemics. In particular, the system can minimise the early mortality syndrome (EMS) on shrimp as it can actively control water environment."
To encouraging aquaculture farmers to invest in technology, functional sectors in Quang Ninh have deployed many agricultural extension models to educate new methods, techniques to the local household farms. They included semi-intensive black tiger shrimp farming in Tan An and Minh Thanh Wards, Quang Yen Town; stage-two shrimp farming in Quang Yen Town, mobile shrimp raising in Mong Cai Town and Truc Anh high tech super-intensive white-leg shrimp.
As of the plan, Quang Ninh province will have 9,400ha of shrimp farming with the expected output of 16,400 tonnes and the export turnover of US$40 million by end of 2020. To achieve the goal, in addition to planning and management, the provincial Agriculture and Rural Development will carry out more drastic solutions, increasing investment in technology to increase shrimp value.
Shrimp farming models which follow VietGAP standards; greenhouse farming, biofloc technology, multi-stage farming are widely applied in Quang Ninh Province. The industrial models of while-leg shrimp in Quang Yen, Dam Ha, Mong Cai can have an average yield of 8 to 10 tonnes per hectare per crop. Some of the farms can reach from 20 to 25 tonnes per ha per crop. In addition, a number of farms are applying the raising in greenhouses which help them to raise the shrimp in low temperature and heavy rain.
Source Vietnam Agriculture Newspaper