News
Hòa Bình: Developing Bangana lemassoni farming at Vạn Mai commune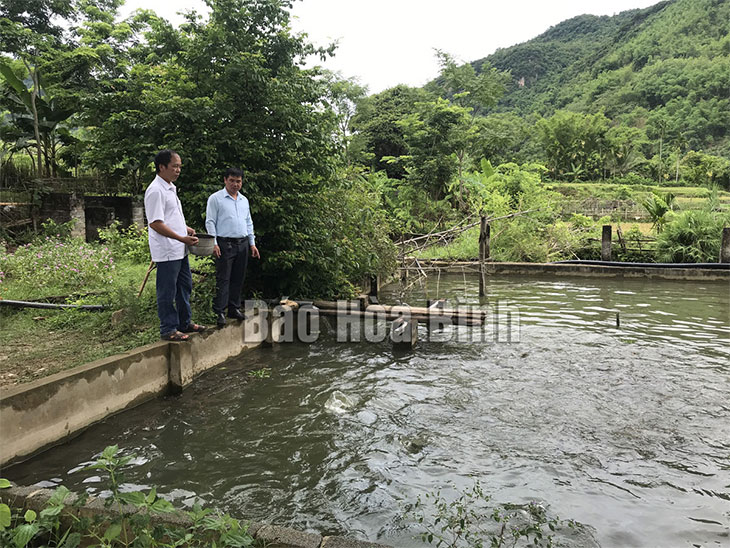 From past to present, Bangana lemassoni is regarded as "Kingfish", a specialty of Mai Châu (Hòa Bình) because of its tasty, unique, relishable flavor. This kind of fish is listed on the menu by many restaurants and is widely welcomed by traders. For years, the people of Vạn Mai commune have expanded the area of fish ponds, gradually increased their incomes, created jobs for themselves, and made it a powerful product of the locals.
Bangana lemassoni pond of Mr. Lường Văn An, Củm Hamlet, Vạn Mai Commune (Mai Châu) with stable output and income of 60-70 million/ year.
 Mr. Lường Văn An (Củm Hamlet) has a fish pond of 350 m2. He said: "My family has been raising Bangana lemassoni for nearly 10 years. This kind of fish rapidly grows without any significant damage since farming thanks to good adaptation to the environment. His experience along with constant attention helps fish always be healthy. Besides, the output of this type of fish is stable because traders often order early. Depending on the weight, the price range is from  200.000 –   250.000 VND/kg. Each year, my family harvests 3 times and earns 60 – 70 million VND".
Sharing about the fish farming experience, Mr. An said that the design of the fish pond is the most important in model building. Bangana lemassoni is a cold-water fish that is used to living in the natural environment with continuous water flow; thus, they cannot be raised in stagnant ponds. As a result, it is necessary to reasonably design from the inlet and outlet. Vạn Mai commune has a wide network of rivers and streams, especially Mã river, Sia, and Mùn stream with stable, cool, and clear water flow, which facilitate the growth of the Bangana lemassoni. It is a disease-resistant and extreme weather-suffering type of fish, especially in the cold climate of Mai Châu- a rocky area. Therefore, it is suitable for replication not only in the Vạn Mai Commune but also in neighboring areas with similar natural conditions.
Over 80% of households in Nghẹ, Lọng, Củm hamlets raise Bangana lemassoni with a total area of 6.2  hectares in the whole commune. The quality of fish has received numerous positive feedbacks from the domestic and foreign markets because of its aromatic taste. The older and bigger fish is, the higher price is; the price ranges from  250.000 to 300.000 VND/kg with each 3 – 3,5kg. The model of raising Bangana lemassoni in the commune ranges from 100 – 1000 m2 depending on the scale of each household. Many traders order at the beginning of the crop; hence, the output and price are so stable. This type of fish is consumed in the district and a lot of hotels, restaurants in big cities. 
Mr. Vì Văn Truyền, Vice Chairman of Vạn Mai Commune People's Committee said: "The expansion of the fish farming area and improvement of fish quality has been included in the resolution of economic development by the commune, towards making this kind of fish a main product of the local. The commune has implemented credit programs, supported loans, opened training classes to share experience in Bangana lemassoni farming. Therefore, households here get stable incomes to escape from poverty. From that, effectively replicating the model, seeking stable markets, toward building OCOP products and gradually making Bangana lemassoni an outstanding specialty of the commune and district." Up to now, the average income of the whole commune has reached  32 million VND/person/year.
Souce: Hòa Bình Newspaper