News
Khánh Hòa: Hundreds of tons of lobsters exported to China each day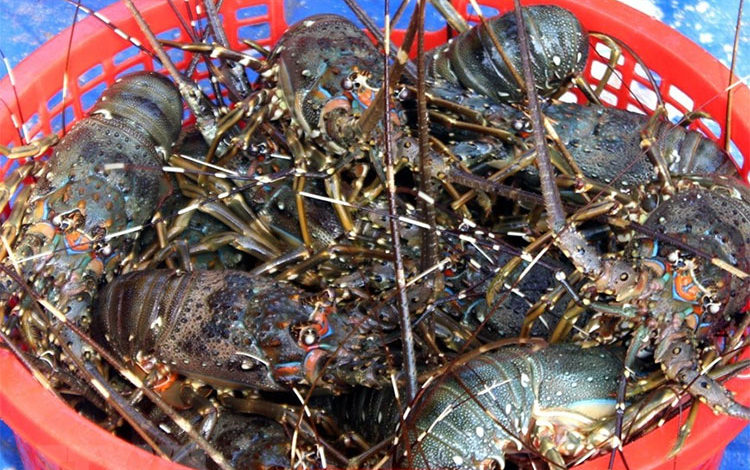 Since China opened their market, busy exports of lobsters have been recorded in this country with hundreds of tons being sold each day.
Nguyễn Trọng Bình, Director of Bình Thơm Seafood Ltd.,Co in Cam Ranh (Khánh Hòa province), specializing in purchasing lobsters for exporting to China, said that China has opened their markets, triggering the exportation of seafood and agricultural products, live lobsters included. The demand for this species rose in the run up to Tet Holiday.
He informed that before Jan 08 when China had not opened the market, the exportation of lobsters slowed down with prices just ranging between 680,000 and 700,000 dong/kg for size three count lobsters (green ones). However, the buying prices have been ascendingly adjusted over the last few days and reached 800,000 dong/kg in early Jan 09 (size three count lobsters). Rock lobsters were sold at 1,2 million dong/kg, up about 150,000 dong/kg as compared to the last few days.
So as to fulfill orders placed by Chinese partners, Bình Thơm Seafood Ltd., Co increase their purchases of lobsters from Cam Ranh. About 5-6 tons of lobsters are exported from this company alone each day. Bình said that about 100 tons of lobsters are sold every day by businesses in Phú Yên and Khánh Hòa where lobsters are mainly produced.
 "Exportation to China is being greatly facilitated, selling lobsters included. Goods going through border gates are not checked or tested for Covid-19", shared Bình. 
Cam Bình commune of Cam Ranh city is named the "capital" of green lobsters in Khánh Hòa province.
Nguyễn Ngọc Huy, a shrimp farmer and a lobster trader in Cam Bình commune says that there are 6-7 boats docking in Bình Ba island to purchase lobsters. About 1.5 tons of commercial lobsters are loaded on each boat.
However, the lobster price just stays at 780,000/kg in Bình Ba island, lower than the nearshore about 20,000 dong/kg, due to shipping charges.
Nguyễn Văn Hậu, a lobster farmer in Bình Ba Đông of Cam Bình commune said that due to high prices, farmers rushed to sell lobsters but had to wait for traders to arrange their schedule.
Hậu has 20 cages of lobster left and will sell them on Jan 23-25 (lunar calendar). Despite prices of 700,000-800,000 dong/kg, farmers don't earn much profit. Because they had to spend as much as 60-65 million dong on broodstocks and feed for each cage (500 pcs each), care was excluded. Meanwhile, the mortality rate was high, 20-30%.
Lâm Anh Tuấn, Chairman of Farmers Society in Cam Bình commune confirmed that the price of green lobster stayed at 780,000 in previous years, and as such, farmers earned much profit. However this year, due to high prices of broodstocks (47,000 – 55,000 dong each, even over 60,000 dong) and feed (80,000 – 140,000 dong/10kg, twice as much as before), farmers break even or earn just little profit selling lobsters at this time of the year.
VFM