News
Quảng Nam fishermen reported his boat was robbed two tons of cuttlefish by Chinese vessel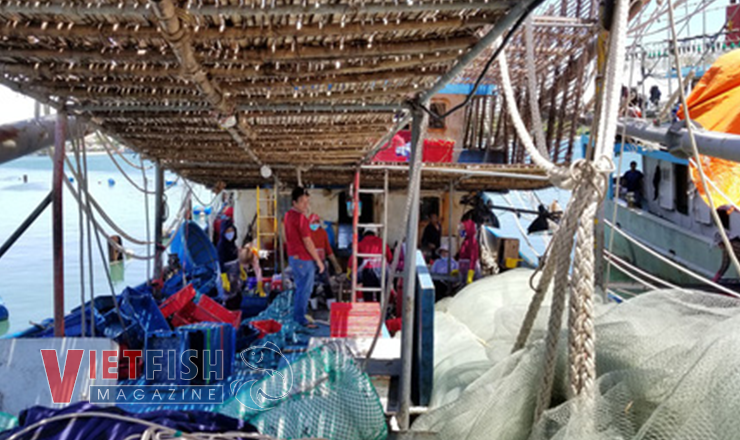 The boat owned by a Quảng Nam's fisherman was restrained and robbed two tons of dried cuttlefish when fishing at Paracel Islands. The incident was reported to competent authorities.
After being attacked on 07 June, the boat owner Trần Văn Nhân (living in Sâm Linh Đông village, Tam Quang commune, Núi Thành district, Quảng Nam province) reported to Kỳ Hà port Border Guard Station. He said that two tons of dried cuttlefish was robbed from his boat QNa-91441by a Chinese vessel.
His boat was operating on a bearing ofN15o42' and E11o34' (around Tri Tôn island of Paracel Islands) at 01:30 PM on 02 June. Ten members on the boatwere taking some rest while the Chinese vessel no.46305 was approaching. Six people from the vessel tooka canoe to get closer and climbed up his boat, then they restrained and pushed the whole crew to the bow, reported captain Nhân.
The crew was forced to open the vault and bring out all cuttlefish from the inside to their canoe where they would come back to vessel 46305. Nhân said that he heard one of the attackers speak in Vietnamese that "this is China's water, fishing is prohibited here". Besides, this man intimidated to cut the mesh and take away our fishing equipment if they continued to fish there.
Nhân said that his boat left on 23 May and stayed away from China's water area during the fishing. Nhân's crew said those Chinese brought weapons with them when restraining his boat.
At that time, his boat was full of two tons of dried cuttlefish which were then robbed. They even forced the crew to pour the remaining fresh cuttlefish down the sea.
Nhân said that two tons of dried cuttlefish was worth 250 million dong while he invested the same amount for that trip. The crew was so frightened that he decided to go straight back home right after the attack.
VFM