News
Khánh Hoà: Nemo clownfish successfully bred, 1 million VND/pc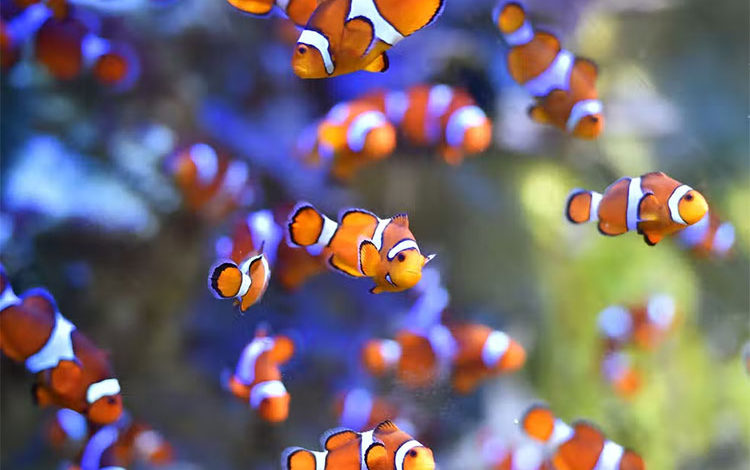 The scientists of the Institute of Oceanography said thay have successfully bred Nemo clownfish (Amphiprion ocellaris), one of the top three favorite and exported ornamental fish in the world.
Master Hồ Sơn Lâm of the Institute of Oceanography said that Amphiprion ocellaris is one of the top favorite clownfish all over the world and one of the top three exported ornamental fish in the global market. A small number of this kind of fish were imported into Vietnam from Indonesia and Singapore at high prices, 120-250 thousand dong each, ten times as much as other clownfish. In Lâm's opinion, due to their high economic value, Amphiprion ocellaris is being overexploited. As many as 3,000-5,000 Amphiprion ocellaris are caught from the Spratly Island and many of them die when being reared in unqualified tanks where they are susceptible to diseases.
So as to replace the wild caught Amphiprion ocellaris and seek to export to China, US, Taiwan, Japan, Korea, and European, the Institute of Oceanography has been successful in artificial breeding of three Amphiprion ocellaris species: Mocha storm, snowflake and Frostbite. The imported Mocha storm is being sold at 1,7 million dong each.
Broodstocks are wild caught. They are fresh orange, 5-8cm long, and swim strongly; their bodies are not scratched and they are not goggled-eyed. Broodstocks are reared under normal temperature, salinity degree of 32 – 34‰, fed with fresh shrimp and mollusks at the rate of 5-10% of the body weight.
Trong bể nuôi cá bố mẹ có đặt chậu đất nung là giá thể để cá nemo đẻ trứng thay thế gành đá rạn san hô. Chậu đất nung được khoét phần đáy để dễ dàng đặt sục khí cho quá trình ấp. Trứng cá sau khi đẻ 6 – 7 ngày sẽ nở thành cá con. Lúc cá nhỏ sẽ cho ăn các loại thức ăn sống như luân trùng, artemia, khi cá lớn hơn cho ăn thức ăn tổng hợp.
To artificially breed nemo fish, scientists at the Institute used terracotta pots, replacing coral reefs for fish to spawn. The bottoms of terracotta pots are bored to easily install aeration equipment for hatchery. Eggs will break 6-7 days after being laid. Fingerlings are fed with artemia and rotifer and then compound feed when they grow bigger.
In Lâm's opinion, about 6,000 fish can be produced every four months by the Institute of Oceanography. The mutant Amphiprion ocellaris are sold to companies and aquarists at 300 thousand or one million dong each (up to species). The ordinary Amphiprion ocellaris are sold at 35-40 thousand dong each.
VFM