News
Khánh Hòa: Prices of sweet snail rise, stocking area is expanding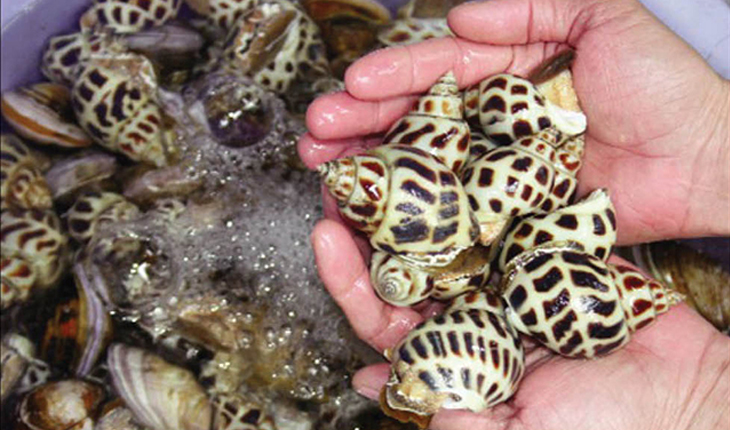 After a long time of falling prices of sweet snails, farmers emptied their ponds or shifted to rear other species. When prices start to rise back, many farmers are returning with sweet snail stocking. 
Prices rise back
Prices of commercial sweet snail in Khánh Hoà are rising back, reaching 185,000 – 190,000 dong/kg (sweet snail grade 1), 40,000-50,000 dong/kg higher than that in February and March 2020.
Some sweet snail traders in Ninh Hoà town of Vạn Ninh district said that the rise of prices is attributed to less stocking area at the beginning of the crop with low output of commercial sweet snail, which is less than one tenth of the previous years. Meanwhile, the market of this species showed some good signs thanks to growing domestic demand.
Prices of commercial sweet snails are rising, leading to increasing demand for baby sweets nails. Nguyễn Văn Thiện, who owns a facility of baby sweet snail in Ninh Phước commune of Ninh Hoà district, said: "Once I sold 1 million broodstocks in February when the crop started, it is as many as 16 million baby snails in nearly one month. Prices of baby sweet snail increased from 2.5 dong/pc to 4 dong/con. Today, tens of facilities in Ninh Phước are busy with producing baby sweet snail to provide local farmers and other provinces".
Increase in stocking area
Trần Hải, Chairman of People's Committee of Ninh Hải ward of Ninh Hoà town, said that when prices of commercial sweet snail recovered, some households started to put their ponds back on track, leaving more than 10ha of stocking area now.
Khánh Hoà province plans to have more than 710ha of commercial sweet snails in 2020. More than 600ha has been fulfilled with these species so far, equal to 80% of the same period last year.
The Khánh Hoà Fisheries sub-department advised farmers to take precautions and apply biosafety farming process and traceability procedures to satisfy requirements of direct exports to foreign markets, ensuring sales of this species.
VFM