News
Go shopping in the ocean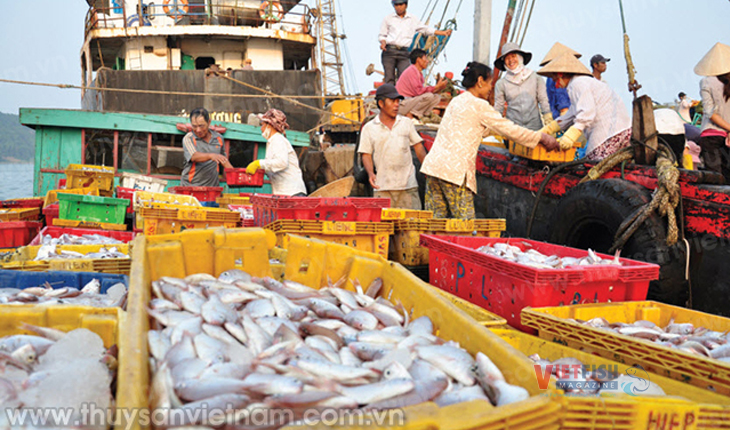 At 2 a.m, Vĩnh Trường fishing wharf in Nha Trang city is crowded with sellers and buyers. Crates of fresh fish loaded from fishing boats are bargained and purchased by traders. So as to have these fresh fish, the boats carrying traders came further out to sea at night to make a deal with owners of fishing boats.
Sales through the night
When the clock ticks 19 p.m, various fishing boats crowd and lighten Nha Trang beach. Over an hour of fishing, nets are pulled up. This takes much time and effort. When nets are just pulled up, trading boats come close and swiftly make a deal.
30 minutes later, fish are put in barrels, iced and brought to the vault. Fishing boats continue dropping nets and trading boats joined at the hip. The trading stops at 2 a.m after 10 turns of dropping nets and trading, and ice runs out. Boat owners record the quantity of sales in a paper which is delivered to traders by captains. After selling fish at the market, traders and boat owners share profits through bank accounts, the transaction is carried out on the following day.
Preservation is solved
An experienced trader in Vĩnh Trường fishing wharf said that while offshore fishing boats manage to preserve fishes in the vault within 20-30 days, nearshore fishing boats don't have to worry about preservation because they can sell immediately to traders. Thus, fishes caught nearshore are type 1 and sold at high prices. For example, pompano is offered 30,000 dong/kg by traders and sold at 60,000-100,000 dong/kg at the market; meanwhile pompano caught by offshore fishing boats is at 14,000 dong/kg. However, nearshore fishing boats must pay the docking fee that purchasing boats and traders are charged. It's 5 million dong for operation all day and 2 million dong for ice.
Mai Thành Phúc, owner of the boat KH-98246-TS said that there were companies investing into 20-30m long boats that are assigned to set sail in 2 or 3 days to find fish for sales in large fishing ground such as Spratly and DK1 drilling rig.
Võ Khắc Én, Deputy Head of the sub-department of Fisheries said that the province has 4,079 boats operating in the coastal area, middle area and offshore area, with 145 maritime trading boats. Sales in the ocean will stop fishing boats from worrying about preservation, fuel cost, and ice. They devote themselves to fishing. Those 145 trading boats are registered for exploitation but can do a part-time job of purchasing fish when necessary.
In Én's opinion, Vietnam is not good at preserving wild-caught fishes, a preserving machine costs high (400-500 million dong) which fishermen can't afford, thus they use ice and fish salt for preservation. "Thus, as much as 30-40% of quality of the offshore exploited fish reduces on their way back to the shore. Nearshore fishing boats can sell fish to traders right on the ocean, thus they only have to preserve fishes in a short amount of time, mainly pompano and partly anchovy. Pompano is consumed in the domestic market while anchovy is scented for exports", said Én.
VFM