News
Lobster farmers in Phú Yên empty-handed after unexpected natural disaster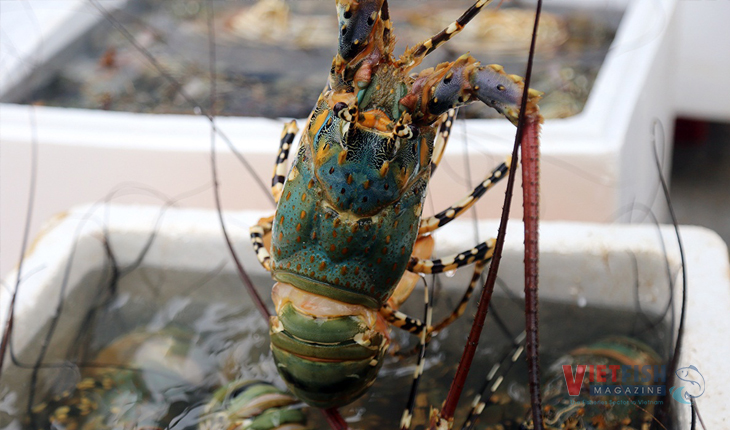 The unexpected natural event on March 31 damaged thousands of lobster cages owned by farmers in Tuy An district, leaving hundreds of empty-handed households. Phú Yên's authority required Tuy An district, departments and the sector report the damages and instruct local farmers to prepare for reproduction.
It's been over a week since the unexpected heavy rain and whirlwind, more than 100 households related to lobster farming in Hòn Yến area of An Hòa Hải commune of Tuy An district have been shocked from severe losses. Farmer Lê Văn Hòa in Nhơn Hội village of An Hòa Hải commune of Tuy An district was trying to bring feed to the surviving nursed lobsters with a hope that they could help him cover some parts of what he had invested into this crop.
He borrowed nearly 900 million dong to buy 8,800 young lobsters to stock in 33 cages. As he calculated, those nursed lobsters would be sold at VND 1.4 billion in case of good growth. However, the unexpected whirlwind and huge waves on March 31 damaged all his cages.
Hòa said that it was an extremely unexpected natural event in the last 20 years, which left him only 1,200 lobsters from 8,800. 
The disaster sunk and damaged more than 2,400 cages containing 790,000 lobsters in Tuy An district, leaving a damage of VND 140 billion with the worst-hit An Hòa Hải commune suffering from the loss of 2,000 cages. The recently hard-hit lobster nursing place in An Hòa Hải is located in the aquaculture planning area.
Two groups have been sent to work with Tuy An district People's Committee to examine and report damages suffered by every single household so that proper solutions can be offered. Party committee Secretary of An Hòa Hải commune of Tuy An district, Phú Yên province said that most of the damaged cages could not be reused.
The Phú Yên provincial Department of Agriculture and Rural Development is working with banks to financially support local farmers to continue with production. The province's agriculture sector will review farming areas and encourage local farmers to reduce the stocking density so as to decrease the damage in case of natural events.
Deputy Director of the provincial Department of Agriculture and Rural Development Nguyễn Tri Phương said that the sector will suggest local lobster farmers replace existing cages with safer materials.
 "Phú Yên has been building a policy to support those who shift from conventional cages to HDPE cages. Domestic producers have been asked to reduce prices so that farmers can approach. Banks have been asked to offer loans so that local farmers can work with new material cages. Offshore farming is being considered in a direction of industrial farming", said Phương.
VFM