News
Minister Lê Minh Hoan explained why IUU "yellow card" has not been removed for six years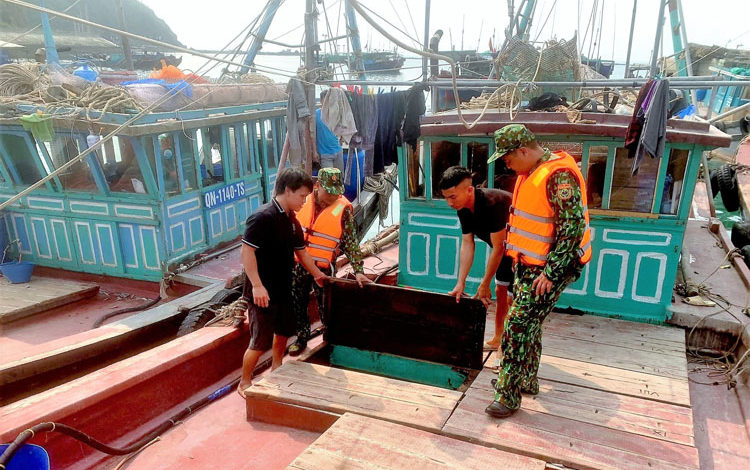 In spite of strictly fighting against IUU, constituting great achievement, and being highly evaluated by EC, IUU yellow card imposed on Vietnam has not been removed.
In his report to Congressmen at the Q&A session of the 25th meeting of the National Assembly Standing Committee on Aug 15, Minister of Agriculture and Rural Development Lê Minh Hoan explained about the removal of the IUU yellow card.
EC issued the regulation no.1005/2008 about establishing a community system so as to prevent and erase IUU fishing activities, effective on Jan 01, 2010.
In Oct 23, 2017, EC gave a "yellow card" warning on all wild-caught seafood sent from Vietnam to the EU market, attributing the action to an increase in Vietnam's uncontrolled fishing vessels trespassing foreign waters and unverified legality of Vietnam's wild-caught seafood going to EU.
"Even though we have been fully performing tasks with synchronous solutions, strictly fighting against IUU fishing activities, achieved great results, and highly evaluated by EC, we haven't had the IUU yellow card warning removed.", said Minister Lê Minh Hoan.
It was mainly attributed to the fact that: Vietnam's fishing vessels trespassing foreign waters for illegal exploitation is complicated. Particularly, from earlier this year till Aug 8, there were 26 vessels with 166 fishermen on captured by foreign authorities from Malaysia, Indonesia, and Thailand (excluding 10 vessels with 36 fishermen on were captured by Cambodia), mainly in Bình Định, Khánh Hòa, Bình Thuận, Bến Tre, Bạc Liêu, Tiền Giang, Cà Mau and Kiên Giang. EC emphasized that they would not remove the "yellow card" warning unless such activities ended.
Besides, the confirmation and certification of wild-caught species origins and imported products are facing difficulties and failing to meet EC's regulations in  traceability.
There are shortages in handling IUU fishing activities, for example: the law enforcement and punishment of IUU fishing behaviors in some localities are weak, irresponsible, and asynchronous,  especially when fishing vessels trespassed foreign waters, with VMS being marked as disconnected.
Regarding an overall review of the EC Delegation as of July 2023, Minister Hoan said that after the third inspection (in Oct 2022), the Delegation recommended four problems: Legal framework, Manage, monitor, and control fishing vessels, Traceability, and Legal enforcement.
So as to successfully remove the yellow card, Minister Hoan gave some solutions, including strong measures for immediate termination of vessels trespassing foreign waters.
We must secure traceability of wild-caught seafood, control imported wild-caught seafood materials, especially those shipped in containers, concentrate on handling IUU fishing violations, enhance the media, cooperation, and resources.
Moreover, Societies and Associations of seafood, and seafood exporting companies must strictly refuse buying, processing, and exporting seafood originated from IUU fishing. We should cooperate with competent institutes to have information and strictly handle seafood companies that commit to illegal activities such as counterfeit documents and encourage IUU fishing.
VFM