News
Phú Yên: The capital of lobster suffers from serious damages after flood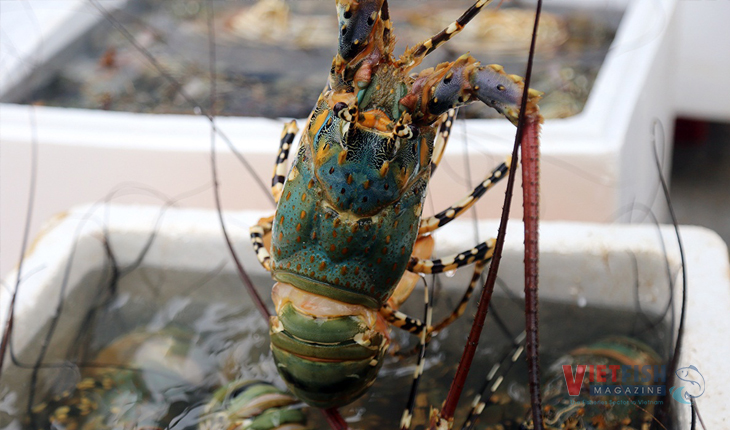 One day after the flash flood, the villagers surrounding the Xuân Đài bay have to witness lobster cages being washed overboard. A lot of boats filled with dead or dying shrimps have arrived at the shore to sell them at low prices. Everywhere, dead small lobsters are loaded in bulk along the side of the road without any buyers taking glimpses at.
"Green lobsters are usually priced at 850,000 dong/kg but it falls down to 300,000 dong when they are dying with their feelers and claws squirming", said Hà Thị Lợi, 44, in Xuân Yên ward, crying beside her basket of dead shrimps.
Her family invested nearly one billion dong, with a loan of 400 million dong, into stocking 15,000 lobsters in 30 cages already installed 3.6km away from the shore. Eight months later when each weighed up to 700-800 gram, she intended to harvest them in the run-up to Tet Holiday.
Before the Etau storm hit the area, her husband and his crew dived to the raft for consolidating cages. In the evening of Nov 11 when the storm went by and brought heavy rains, floods inundated the bay. And the next morning, more than 1,000 lobsters were found dead shocking of water while the rest were dying.
The Sông Cầu commune has more than 3,000 lobster households owning nearly 60,000 cages. According to the initial statistics, more than 1,520 cages owned by 170 households were found with dead lobsters, leaving a damage of nearly 40 billion dong.
Farmer Nguyễn Văn Thuận, 41, in Xuân Thành ward had 100 cages of 25,000 lobsters which had been stocked for 5 months and weighed up to 100-200 gram each. As many as 10,000 lobsters have been found dead for the last two days, making him suffer from a loss of hundreds million dong. "I invested one billion dong, feed, workers and bank interests excluded, into those cages", he said.
He said that he used to install a shoring system or sink the cages down the water before storms came, leaving just a few damages in the past. However, he was so surprised by the flash flood this year and suffered from great loss in defiance of careful consolidation.
Chairman of Sông Cầu commune People's Committee Phan Trần Vạn Huy said that the flash floods made lobsters shocked, resulting in a massive death. "Water keeps falling down, lobsters keep dying, leaving further damages".
VFM