News
Quảng Ninh: Efforts to build a trademark for shrimp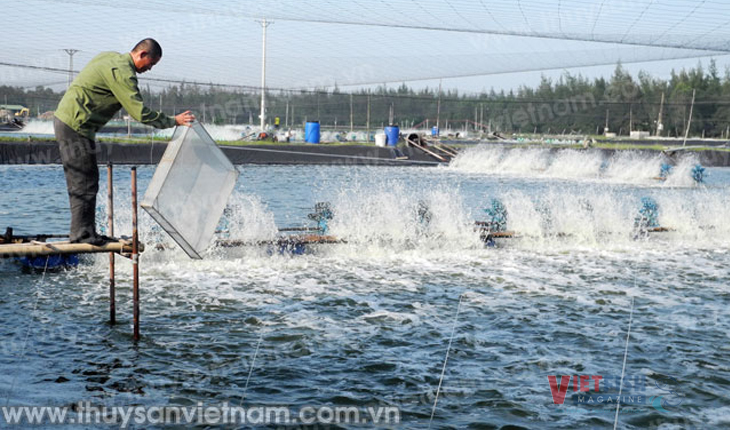 Quảng Ninh has spent enormous human resources developing the aquaculture recently. What should be paid attention is the application of advanced technology and technique in shrimp culture.
Apply advanced technology
The complex of post larvae production and hitech super-intensive shrimp culture invested by Viet Uc Seafood Corporation in Tân Lập commune of Đầm Hà district is apply an advanced technology in producing post larvae, with a rapt attention in selecting shrimp broodstocks. The corporation is studying, producing and selecting the ninth generation of shrimp broodstocks.
The complex was started in 2017 in a 300 hectare land, invested more than 1,000 billion dong and is considered the highlight of the hitech shrimp production sector in Quảng Ninh. Nguyễn Xuân Thắng, CEO of Việt Úc Quảng Ninh Co., Ltd said that 12 million white leg shrimps were produced in the first hand, meeting quality standards beyond expectation. Việt Úc Corporation has just invested into facilities to expand the production scale in accordance with a suitable schedule so as to improve the capacity of post larvae production up to eight billion posts per year, enough for Quảng Ninh and the northern provinces. Besides, a program of culturing shrimp broodstocks is urgently implemented to prepare for shrimp sources in compliance with climate and edaphic conditions in the province.
In 2019, Việt Úc provided around 600 million high quality post larvae to the market. As many as 350 million post larvae have been sold and around one billion white leg shrimps are estimated to be sold in 2020. The numbers of production facilities increase from 6 (in 2019) to 24 (in 2020).
The company is sending leading scientists to Đầm Hà district to research and study the project of spreading and farming the peanut worms. The company has been successful with post larvae "made in Quảng Ninh" and completed the first phase of the project with not only tackling post larvae problem but also paving a new direction of development of Quảng Ninh's shrimp sector in a modern way, committing a strategic target to build Quảng Ninh become the largest industrial shrimp center in the North.
Develop a trademark of Quảng Ninh shrimp
Realizing the strength of white leg shrimp, Tâm An Seafood Company has been proactive in applying Biosipec technology in three-phase white leg shrimp culture so as to increase productivity and provide consumers with high quality products for food safety assurance. Thus, this will increase the survival rate of shrimps, improving productivity and output, especially enabling waste treatment. What's the most important is to build and manage the nursery. With this technology, farmers can carry out more crops per year by shortening the duration of rehabilitation, facing less disease outbreaks thanks to an entirely closed system, and eliminating trash out to the environment.
Being a tidal area with a lot of ponds, Quảng Yên town has many advantages of aquaculture and has been focusing on adopting synchronous solutions to fisheries development in an effective and sustainable way. So far, Quảng Yên has harvested 6,500ha of farmed species, with a vast majority of farmed shrimps. The town has a 320ha intensive shrimp farm, producing 2,500 tons in 2019.
Quảng Ninh has applied a lot of practices and succeeded in testing production models; and remarkably, the shrimp sector is in the process of international integration to penetrate into the global market. Shrimp farming models following such schemes as VietGAP, greenhouse, Biofloc, three-phase culture are spreading, with remarkable farms being developed in Quảng Yên, Đầm Hà and Móng Cái, which produce 8-10 tons/ha/crop on average, even some models produce 20-25 tons/ha/crop. Besides, some facilities are rearing shrimps in greenhouses. This model is highly evaluated, especially under low temperature and on rainy days.
In the next few months, Quảng Ninh will focus on developing the fisheries industry with investing and applying advanced technology to build a high quality shrimp sector, developing the brand Quảng Ninh shrimp.
In 2020, Quảng Ninh has a total of 9,400ha of shrimp farms, with 4,000ha of intensive shrimp ponds and 5,400ha of semi-intensive/improved extensive farms, accounting for 57.4% and producing around 16,450 tons of farmed shrimps, bringing the total shrimp export volume up to $40 million and the number of post larvae reaching up to 10 billion pcs.
VFM