News
Release over five tons of fish and nearly 600,000 fries for marine resource recovery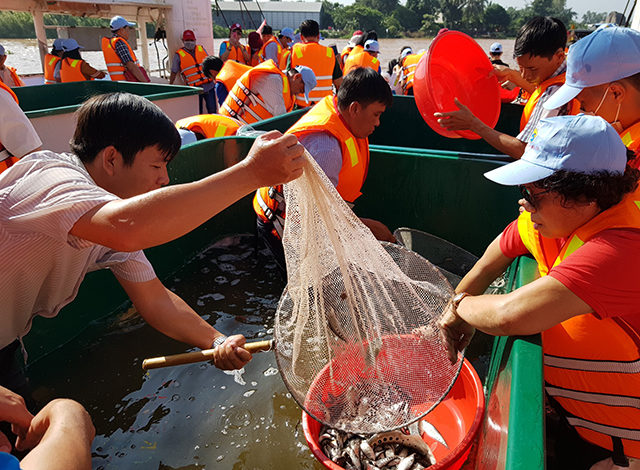 In the morning of September 10, the Ministry of Agriculture and Rural Development and provincial People's Committee of An Giang, Cần Thơ, and Đồng Tháp celebrated an Event of releasing fish for interprovincial marine resource recovery on Hậu river.
Phùng Đức Tiến, Deputy Minister of Agriculture and Rural Development, leaders from the Mekong Delta provinces, and local people took part in the event and released the fish. As many as five tons of fish and nearly 600 thousand fries were released to the Hậu river.
According to leaders of An Giang provincial People's Committee, fish releasing for the recovery of marine resources has been an annual event over the last ten years. Since 2021, the province has been financially supported by 3,635 organizations and individuals with a total of VND 8.5 billion worth which was spent on 164 tons of fish and more than 4 million precious fries. In 2022, as much as over VND 1.5 billion was invested into the event (by organizations and individuals in the province and from auxiliary localities) with more than 5 tons of fish and nearly 600 thousand fries being released to the Hậu river.
Deputy Minister Tiến said the event was an overall plan by the Government. Thus, MARD hopes that in the period 2022-2025, leaders and people of the three provinces, An Giang, Cần Thơ, and Đồng Tháp will pay attention to and closely work with MARD to successfully celebrate the events of releasing fish fries for rehabilitation of interprovincial marine resources as well as cooperate to manage and protect those fish after the release.
According the to plan for 2022 by the Directorate of Fisheries, Vietnam will release over 52 million fish fries and 136 thousand kilograms of broodstocks of all species, including high commercial value species and endangered ones, to the nature for marine resource recovery.
VFM