News
Research for the development of shrimp and pangasius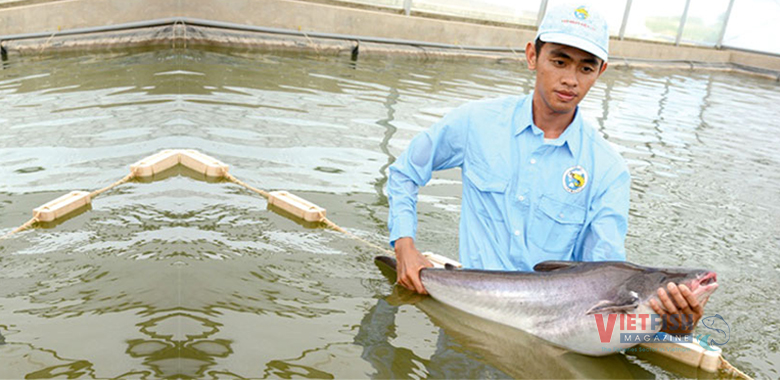 The scientific community, farmers and companies have made great contributions to the development of the fisheries industry so far, with worthwhile investments and studies in technology appliances which have brought multiple achievements in shrimp and pangasius farming.
Shrimp farming upon biosafety
"Our bio-products have been identified with numbers since 11 November 2019 for nation-wide using. This kind of bio-product reaches 1012 CFU/ml. It means there are trillions of bacteria per 1 ml, as good as the ones by developed countries", said Doctor Mai Thi of Minh Phú Seafood Corporation. She had led a research group while working in a unit in Sóc Trăng and achieved many prizes, then started her career in Minh Phú Seafood Corporation in April 2019 as Director of Minh Phú Bioproduct Production Ltd.,Co.
Her proposals were agreed by the Corporation's leaders, helping her produce the first bio-product just after three months. Now she has 12 bio-products with 4 of them to treat the polluted environment and 8 to use in shrimp ponds. The first bio-product was used for 3-hectare shrimp pond in Thạnh Thới Thuận commune of Trần Đề, Sóc Trăng which brought in good results. Then it was applied in 700-hectare while leg shrimp farms developed by the Corporation in Kiên Giang, producing higher quality shrimps and reducing production cost. Doctor Mai Thi and her partners have been studying guts of various species before deciding what is the most suitable for producing bio-product as local bacteria is healthier, lives longer, and can be recovered in case of degeneration than imported ones.
Doctor Lê Thị Hải Yến in the Center of Research and Develop of the Veterinary Medicine Import Export JSC (Vemedim) has been studying in using bio-product in shrimp cultivation, including bio-product for water treatment in growing pond and improvement of shrimp's digestive system by encouraging the immune system, enable shrimp to produce compound to fight against harmful bacteria, take back nutrition from harmful bacteria and toss harmful bacteria out of the body.
When bio-product is used as feed for shrimp or substance to put into growing pond regularly or periodically, success in biosafety shrimp cultivation will be achieved.
Baby pangasius and products from this fish
CEO of Việt Úc – An Giang Pangasius JSC Võ Minh Khôi introduced the Hitech pangasius production facility in Vĩnh Hoà commune of Tân Châu, An Giang with 1,000 pangasius broodstock G1 whose ADN samples were taken and sent to CSIRO (Australia) to make sure that they were qualified enough to produce around two billion fingerlings per year and provide 200 million baby pangasius (size 30 pcs/kg) to the market. The facility, which is 100 hectare wide, located in Vĩnh Hoà islet on the Tiền river, is far away from the residence and assures biosafety during the production.
There are 18 membrane houses to store pangasius broodstock which are equipped with solar power systems. Mr Khôi said that these pangasius were targeted with three characteristics: to grow faster (the next generation is estimated to grow 8-10% faster than the previous one), to increase survival rate 5-10% as compared to the previous generation, to enhance the meat quality. The quality of meat is estimated by fillet ratio which shows that 1 kg of fillet can be obtained from 2 kg of fish instead of the current 2.8 kg and more white meat will be obtained.
The baby pangasius production facility was applied with advanced technologies to select outstanding fish as broodstock. Not only do the facility provide the broodstock, it also supply back-up sources for the secondary broodstock production facilities following the Project of production chain for high quality pangasius production in the Mekong Delta.
In the field of diversifying pangasius products, 2019 marks steady advances by the International Development and Investment Corporation (IDI). IDI is famous for high quality Ranee cooking oil which keeps precious nutrition from fish. The Corporation has developed nutritious Ranee KIDS cooking oil for children recently.
VFM