News
Hải Dương farmers enjoy bumper ragworm season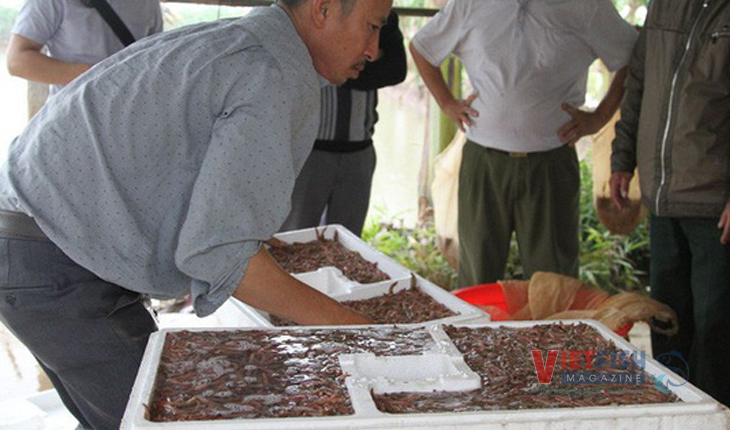 Farmers in Hải Dương have started the first worm harvest of the year, which runs from September 20 to October 5 in the lunar calendar. The catches depend on the tides, and each lasts from two to three days.
After they're caught, the worms are left to dry before packaging. Traders come to buy the worms and sell them to neighbouring localities. Ragworms are the main ingredient of a famous dish called ragworm balls made from worms mixed with pork, eggs, fresh dill and citrus peels.
Ragworm balls
Ragworm productivity at the beginning of the season this year had increased by 30 per cent compared to last year, and they were selling out at prices between VNĐ350,000 to VNĐ400,000 (US$15-17) per kg. Some years ago, farmers in the province bought rice paddy fields which had low productivity and instead used them to raise ragworms. Farmers have localised farming areas and pumped water into the fields to catch more worms.
According to Nguyễn Văn Khoa, vice chairman of Vĩnh Lập Commune's People's Committee, when ragworms appeared in the province many years ago, farmers used simple tools to catch them in the river. In recent years, they've invested in chemical-free fields and taken advantage of tidal water to increase productivity, he said.Vĩnh Lập Commune now has about 45 worm breeding households, covering about 50ha around the Văn Úc and Thái Bình rivers. Hải Dương Province has about 400ha of worm farms in Tứ Kỳ, Thanh Hà, Kim Thành, Kim Môn and Chí Linh. Many farmers in the province earn a living from ragworms. They can earn VNĐ8-10million for every 360sq.m of land each year.
Ragworm
Phạm Văn Tình, head of Aquaculture Division under Hải Dương Province Department of Agriculture and Rural Development, said in rice fields and fruit tree growing areas located around worm raising areas, farmers say no to pesticides, chemical fertilisers and only use organic fertilisers and manure to protect worms. Raising worms requires uncontaminated water and soil. According to a representative of the provincial Aquaculture Division, local authorities planned to hold workshops to instruct farmers how to raise worms without harming the environment.
Farmers in Vĩnh Lập Commune are hoping that waste treatment factories in the area will follow safety standards in order not to pollute the rivers where the worms are raised.
VNS