News
Rush to protect shrimp and fish against typhoon Noru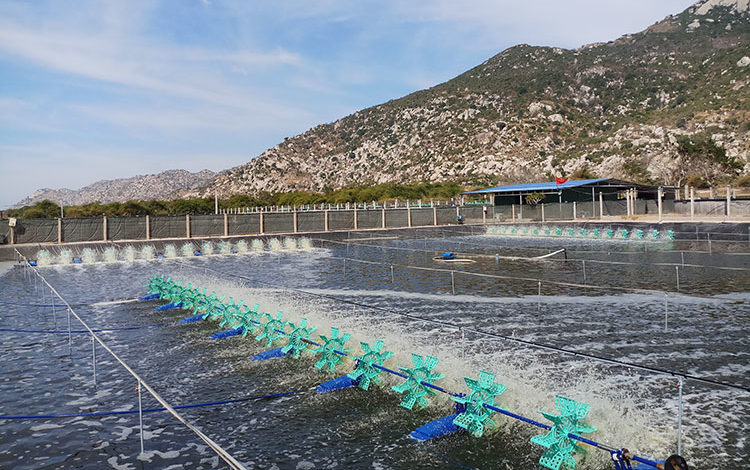 Farmers in South Central provinces are rushing to fix and sink cages or move shrimp and fish to a safe place before the typhoon Noru makes landfall. 
Farmer Nguyễn Văn Vững, 40, in Phước Lý street of Xuân Yên ward, Sông Cầu town, Phú Yên province has 10 cages of green lobster and 4 cages of rock lobster. The 10 cages contain about 1,000 green lobsters, 4 gram each, which have been reared for 12 months. The 4 cages contain about 200 rock lobsters, 1kg each, which have been reared for 18 months. Shrimp farmers in Sông Cầu are extremely worried about losing all their assets due to the upcoming typhoon Noru. "Cages, which are now sunk deep down into the ocean, will rise up again after the typhoon", said Vững.
Besides, lobster farmers in Phú Yên are rushing to sell millions of lobsters to reduce the damage. Farmers related to production of lobster broodstocks are "evacuating" lobsters to Vũng Rô to avoid the typhoon. Cages of sold-out lobsters are removed to the shore and fixed tightly so as to prevent from being swept away.
Phạm Đại Dương, Secretary of Phú Yên's Communist Party, requested the local authority to actively inform and instruct farmers to fix, sink or remove 82,696 cages to a safe place. 4,780 people working at and supervising cages must be evacuated before typhoon Noru approaches the mainland.
Farmers in Hải Minh of Quy Nhơn, Bình Định were busy fixing the cages on September 25-26 so as to minimize damages possibly caused by typhoon Noru. The Nhơn Hải commune alone has 13 households related to lobster farming, with 7 rafts being located in front of the beach. The local authority informed farmers to remove their cages to the Mai Hương pond before 15h on September 26.
Farmer Trần Ngọc Sỹ located in Vạn Lương commune of Vạn Ninh district, Khánh Hòa province said that local farmers actively fixed their cages to assure safety for species in the run-up to flood season. Besides, they had already harvested and sold qualified shrimps and fish.
Sỹ had his 100 lobster cages fixed by 60 anchors. Sỹ has sold about two third of the total output of shrimps subject to harvest. He said that all the workers and he would go back to the shore in late afternoon on September 26 to assure safety.
According to the Economic Office of Vạn Ninh district, there are 1,304 households with 2,743 people working on offshore cages, 1,511 rafts and 39,407 cages of lobsters and marine fish.
Head of the Economic Office of Vạn Ninh district Nguyễn Ngọc Ý said that in the response to typhoon Noru, the district has updated the courses of the typhoon and removed all rafts and cages to safe places. When a ban on working in the ocean was announced, the district would stop all activities and requested farmers to go back to the shore.
VFM