News
Thái Bình has an abundant crop in the winter season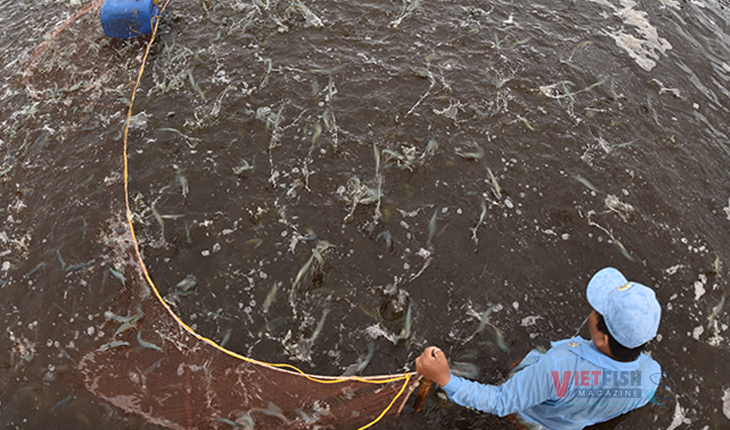 Cold weather in the north of Vietnam causes a lot of difficulties in shrimp cultivation. However, many households in Tiền Hải of Thái Bình province adopted some solutions to the winter crop for abundance assurance.
In the farming area of Nam Phú commune, while most households related to extensive shrimp farms are rehabilitating and cleaning grow-out ponds to prepare to the 2021 summer-spring crop, Nguyễn Văn Khánh's white leg shrimp ponds are stable in the face of the awful weather of winter where temperatures between day and night are extremely different. Khanh said that the economic effectiveness of the winter crop was twice as much as the two previous ones as very few households invested into this crop. Currently, the source of commercial shrimps is not abundant, especially on Tet Holiday.
Learning about the demand of the market in the previous years, Khanh decided to spend more than one billion dong on rearing hitech shrimps in houses which helps adjust temperatures better and prevent white spot disease in the run-up to winter season. Currently, Khanh's white leg shrimps are weighing up well and will reach the harvest size on Tet Holiday.
Nguyễn Văn Nhàn, in Đức Cường village of Nam Cường commune, moved whiteleg shrimps from 2,880m2 of earthen ponds to a hitech house, resulting in a higher economic efficiency. Nhàn said that besides building houses, shrimp farmers should manage the environment effectively, handle the source of water carefully, and buy post larvae from credible facilities. Moreover, Nhàn installed a feeder with a timer software to reduce workers, save feed, enable shrimps to weigh up quickly and prevent them from infecting with diseases. Prices of commercial shrimps harvested in the winter crop are half as much as those harvested in the main crop.
Phạm Văn Vang, Head of the Office of Agriculture and Rural Development of Tiền Hải district said that many local shrimp households decisively developed another crop – the winter crop. Tiền Hải creates favorable conditions for shrimp households to rear shrimp with high technologies with an entirely closed system from water treatment, grow-out environment to SPF post management.
Up to now, Tiền Hải district has had 36.4ha of shrimp farming area, with 13 million post being stocked.
In the next few months, Tiền Hải continues to pay attention to hitech shrimp cultivation so as to carry out the winter crop in a sustainable way and in combination with ecological environment protection.
VFM