News
The first shrimp shipment going to EU benefits EVFTA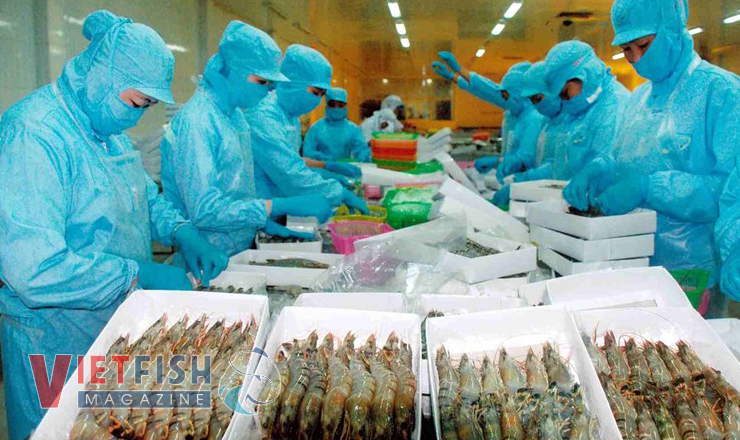 In the morning of September 11, the Ministry of Agriculture and Rural Development (MARD) held the ceremony of exporting Vietnamese frozen shrimps to some EU countries at the entry into force of EVFTA.
MARD forecasts a 20% increase in shrimp exports to the EU in Sep 2020 as compared to Aug 2019. Vietnam will see a growth in shrimp exports to the EU till the end of this year despite low speed due to the continuing impact of the COVID-19 pandemic. Thanks to the advantages of export duties that Vietnam enjoys when selling shrimps to the EU market, more and more companies in this group are buying shrimps from Vietnam. Processed and packaged products are favorite to households.
According to MARD, Thông Thuận company has two factories of processing shrimps for exports. One is located in Thành Hải industrial zone of Ninh Thuận province and the other is located in Suối Dầu industrial zone of Khánh Hoà province.
The export revenue those factories bring in is 100-120 million USD per year with Japan accounting for 35%, the EU accounting for 45%, the US accounting fro 10-15%, and other countries making the rest. Thông Thuận applies an entirely closed system from post larvae to cultivation and process.
Farming areas and factories owned by Thông Thuận satisfy international schemes such as BRC, Global GAP, ASC, and BAP. Shrimp processing factories meet requirements of variety, quality and globally strict production procedure.
Entering the EU market, the company has already been granted with certificates such as  GLOBAL GAP, ASC, BRC, BAP 3 SAO, IFS, BSCI, SEDEX, BAP 4 SAO to create high quality seafood for exports, gain trust from customers and achieve consecutive considerable growth.
According to MARD, since Vietnam entered EVFTA, Thông Thuận has recorded impressive growth in orders from the EU market and a transition in structure of exported products in the whole system. By Aug 31, 2020, the export revenue has reached nearly 70 million USD.
Thông Thuận plans to bring in 9.5 million USD from exports in Sep 2020, with 4.5 million USD from the EU market. The company expects to bring in 45 million USD from exporting to the EU in 2020.
VFM