News
The seafood industry eyes more value from deep processing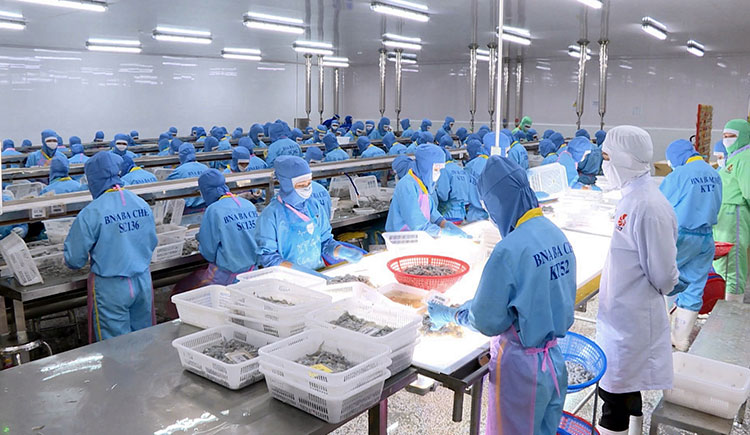 Vietnam's seafood exports reached a new record high earlier this year regardless of inflation and instability of politics all over the world. Domestic seafood businesses are proactively investing into deep processing and targeting high-end markets.
Exports reached nearly USD 7.6 billion in August
According to VASEP, seafood exports reached USD 917.06 million in August, up 54.1% from the same period last year, leaving a revenue of USD 7.6 billion in eight months, up 36.2% as compared to the same period of 2021. Noticeable sales were recorded in some categories such as shrimps with over USD 3 billion worth, up 22.5%; pangasius of nearly USD 1.8 billion, up 80.7%; tuna with nearly USD 724 million, up 54.1%; cuttlefish and octopus with nearly USD 478 million, up 33.5%. As a result, Trần Đình Luân, General Director of the Directorate of Fisheries believed that seafood exports could reach USD 10 billion in 2022, beyond the expectation. In his opinion, a rapid recovery of targeted markets after the Covid-19 pandemic and the fluctuation of Russia's white meat fish supply have paved a new way for Vietnam's fisheries to speed up and take benefits in the first quarters of 2022.
As for trade and production, many businesses expressed their confidence in the good signes of the market. Nguyễn Văn Đạo, General Director of GODACO in Tiền Giang said that the company was about to reach the targets of revenue, output, volume, and profit. Phát Tiến Seafood Ltd in Đồng Tháp has achieved more than USD 30 million worth of revenue in seven months and can fulfill the target of USD 50 million worth of the whole year.
Further investment for deep processing
The price of fresh pangasius skin is around 0.5 USD/kg while collagen made from pangasius skin can be sold at 25-40 USD/kg. This is an example to prove the effectiveness of deep processing. Realizing the importance of deep processing, Navico, one of the leading seafood businesses, is investing into a factory to process collagen from pangasius skin in Cần Thơ with a capacity of 800 tons of collagen per year.
Sales manager of Phat Tien Seafood Company Chiêm Cường said that besides the key product, pangasius fillet, businesses are investing into two processing factories of valued added products. He realized that it was a potential segment as the US consumers were leaning towards frozen products and deep processed categories instead of fresh ones.
Nguyễn Văn Đạo, General Director of GODACO said that despite narrow market share, consumers started to get used to deep processed products as that was a sustainable segment. Thus, businesses must invest into technologies so as to create the products that can satisfy the most demanding markets. Đạo said that by the end of 2022 the company would put the second factory into operation to increase productivity of valued added pangasius up to 400 tons per day. The General Director of GODACO shared that deep processed products accounted for 15% already and would reach 15% of the density of exported products destined to the US in 2023.
VFM