News
Trà Vinh: Launch the project of supporting farmers to rear softshell turtle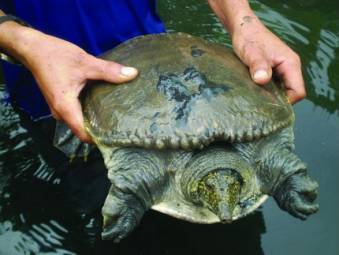 Farmers are supported to rear softshell turtles (Amyda cartilaginea) by the provincial Farmers' Union using their start-up fund. This model paves a new way of production.
Softshell turtle has been paid attention by farmers in Tiểu Cần district of Trà Vinh province. According to Trần Văn Minh (in Bình Phú commune of Càng Long district), softshell turtle farming is a new and potential model. Softshell turtles need time to adapt to a new environment. But once successful, the price will rise up to 400 – 500 thousand dong/kg.
Minh shared that softshell turtle farming required little money as farmers could use golden apple snails, water hyacinth, and guts of chickens and ducks as feed. However, farmers should feed a proper amount to prevent water from getting polluted because water pollution is the main cause of diseases in softshell turtles.
If growing well, a softshell turtle can lay eggs at the age of four, 10-15 eggs on average. The hatchery takes three months with a success rate of 70%. Baby softshell turtles are sold at 280,000 – 350,000 dong each (up to sizes) by traders from Bạc Liêu and Hậu Giang. Minh said that he didn't have to spend much time on the softshell turtle pond. To facilitate softshell turtle farming, local authorities have financially supported members of the Cooperative of Softshell turtle in Bình Phú commune. Besides, farmers have been introduced to updated techniques of softshell turtle culture from technical training courses, so that the quality of this species would be improved.
Nguyễn Văn Ngô in Phú Hưng 1 hamplet of Bình Phú commune said: "I was lent 50 million dong to buy softshell turtle babies which have grown up well with a survival rate of 100%. 
The model of rearing softshell turtle breeding stocks has become a new business field, contributing to the socio-economic development and better livelihood of Bình Phú farmers.
VFM