News
Anything "hot" in VietShrimp 2020?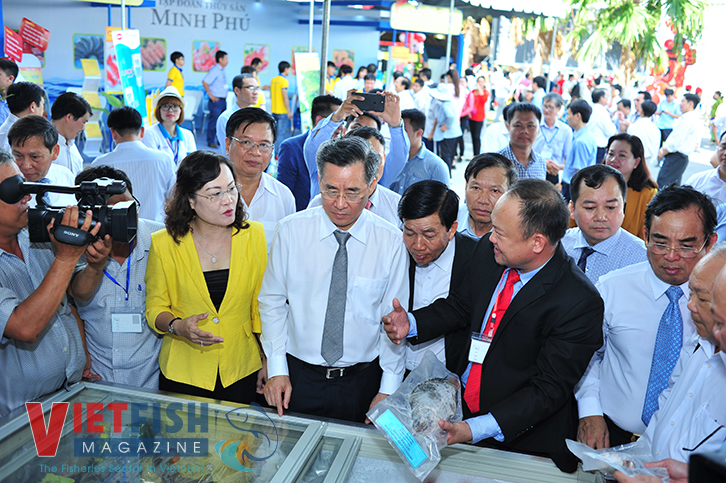 The successful VietShrimp 2016 and 2018 have proven its position and credibility when all the advanced technologies of the leading companies related in shrimp sector are exhibited very early. 
The show of technology 
The third VietShrimp will run on 25 – 27 March 2020 in Cần Thơ with the leading domestic and international corporations and companies related to shrimp sector (from shrimp seeds to feed, medicines, bio-products, machines, equipment, technology, and service) participating to introduce their new products and advanced technologies.The event not only creates an opportunity for them to prove their possibilities and potentials but also shows the possible movement of the world. Beside this, consumers have a chance to see and experience brand new products, good services and advanced technologies which help improve the production and quality for their farms.
The technology appliance 4.0 to improve the Vietnamese shrimp value chain, Blockchain from farm to table, IoT in rotation farming, live quality surveillance system in shrimp farms to save energy, safe solutions to power saving in shrimp farms, technology to make high value products from shrimp products, and intelligent and green energetic nursery ponds will be exhibited in VietShrimp 2020. Moreover, the leading fishery companies like C.P, Skretting, Viet Uc, De Heus, New Hope, Dương Hùng, Bayer, and Vĩnh Thịnh Biostadt will show off their products which must be more impressive than what were exhibited in the previous events. The change and improvement of each product will help Vietnamese seafood companies polish their images.
Companying and Sharing 
Eventhough VietShrimps have been held for only two times, VietShrimp 2020 is one of the most important trade production activities and gives real meaning to the Vietnamese shrimp sector particularly and fishery generally. Besides this, it has brought lots of economic value and practical opportunities for Vietnamese companies to boost their domestic sales and exports. 
VietShrimp 2020 with title "Sustainable destination" is to build the association and sharing among managers, scientists, experts, companies, farm owners, and farmers in the field of potentials and challenges of Vietnamese shrimp sector, and to catch up with the world's trend, production, and demand of this species. 
VietShrimp 2020 will be held by the Vietnam Fishery Society in association with the Directorate of Fisheries and conducted by Vietnam Fishery Magazine and Vietnam Media Ltd Co. The organizers hope that Vietnamese companies related to shrimp sector will keep pursuing and sharing the value of "quality – innovation" and "creativity – capability" to build and advertise Vietnam as a country of sustainable and effective shrimp sectorwhich will help strengthen its global competitiveness.
There will be about 200 stalls in VietShrimp 2020 and technical seminars, round-table conference, and trade workshops during the event. 
>> According to the Organizers, two third of stalls have been registered by mid-September 2019. Many companies said they would invest heavily in VietShrimp 2020, from designing the stalls to showing off their best service and high-quality products. 
For more information of Vietshrimp Expo 2020:
Conference programme and management: vietshrimp@gmail.com
Trade show, sponsorship and media partners: duongnghia22@gmail.com – Phone: (+84) 94466 3828
Website: https://vietshrimp.net/ – https://vietshrimp.vn/
VFM