News
Unstable shrimp market before the new wave of COVID-19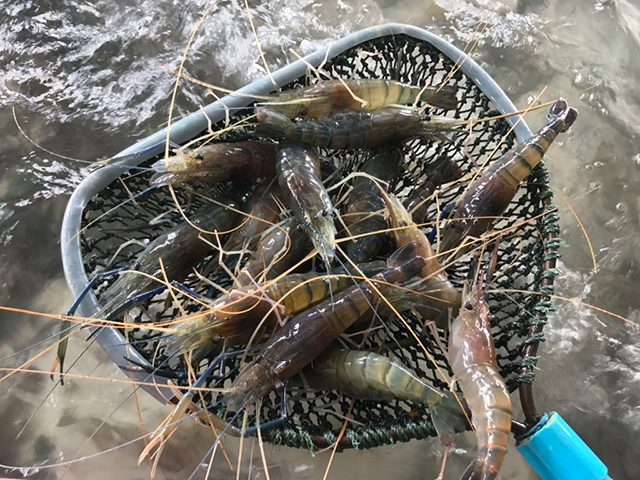 Although consumption from food services decreased, shrimp imports increased in many markets due to lower prices. Besides, the demand for fresh and frozen shrimp from retail also increased. However, the new wave of COVID-19 is still lurking ahead.
Fluctuated supply
In most shrimp farming countries, production data for 2020 have not yet been published. However, according to preliminary sources and analysis of the shrimp industry, production growth was moderate in Ecuador, Indonesia and Vietnam but fell sharply in India, Thailand, Malaysia and Bangladesh. In particular, shrimp production in China decreased more sharply than other Asian countries. From November 2020, shrimp farming in Asia including Northeast India, Vietnam, Thailand, Myanmar and Bangladesh entered the low season. Material shrimp prices hit the bottom during the Q4/2020 and have remained until now, especially for large and medium sized shrimp. Ecuador's National Aquaculture Department has just announced that the country's farmed shrimp production in 2020 will increase by 7-8% compared to 650,000 tons in 2019. Meanwhile, Argentina's natural marine shrimp supply in 2020 is also lower in 2019 due to the start of the harvest later, the biomass decreased and the processing was constrained by COVID-19.
Bumpy commerce
During the first 9 months of 2020, shrimp exports of Ecuador and Indonesia increased, but India, Vietnam, Thailand, China and Argentina decreased compared to the same period last year. Ecuador still maintains its leading position in export volume despite the country's lowest shrimp price in the world, rising transportation costs, many difficulties in logistics and temporary import ban from China. Ecuadorian shrimp exports to 3 main markets, including China, the US and Europe, increased by 7,9%; 50% and 20%. Meanwhile, Indonesia's shrimp exports also increased by 20%, of which exports to the US increased 27,8%, China 65%; Malaysia 42%; Singapore 15% and South Korea 12%.
In contrast, Indian shrimp lost market share to competitors due to lower production and weak competition against Ecuador in terms of supply to prices. Exports of Indian shrimp to the US, China, and Europe fell sharply but increased in Japan (8%), Vietnam (4%) and Canada (17%). Argentina's shrimp exports also stagnated during this period, down 23,3% due to lower catches, only exports to key markets including Europe and China decreased by 30%.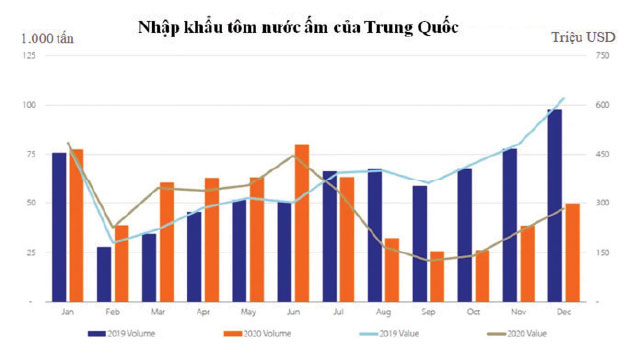 Besides, shrimp imports of 10 leading markets in the world including the US, China, Europe, Japan, Korea, Vietnam, Taiwan, Canada, Russia, and Hong Kong reached 2 million tons during the first 9 months of last year, up 8,6% over the same period in 2019. Although the food service channel has weakened globally, shrimp imports in the US and China are still increasing. In Europe, shrimp supplies from Ecuador and Greenland took a chance to boost up when shrimp from India, Argentina and Vietnam decreased. In Spain, Ecuador has surpassed Argentina to become the largest supplier of shrimp with exports growing 33% at 37,240 tons. The 12% drop in Ecuadorian shrimp exports value in Spain also reflects the country's extremely strong sales promotion strategy. Meanwhile, imports of processed shrimp from Vietnam, Indonesia and Thailand fell sharply.
Retail sales of seafood have increased strongly in the US since last year, despite the COVID-19 pandemic, creating favorable growth momentum for shrimp trade in this market. Food service channels have not yet fully recovered and are in danger of closing at any time due to COVID-19, but this has facilitated the development of retail and commercial trends. The market share of processed shrimp has increased 23% in the US (124,255 tons) during the first 9 months of last year compared with 20,6% in 2019. Currently, Vietnam, Thailand and Indonesia are still the main supply.
When the domestic supply of shrimp plummets in 2020 and the selling price soars, the demand for imported shrimp in China will increase again. Accumulated imports during the first 9 months of last year increased 4,8% over the same period, reaching 500,000 tons. Shrimp imports from Ecuador increased by 23,3%. According to China Customs, shrimp imports from Indonesia, Malaysia, Iran, Argentina, Canada, Greenland, Norway and Pakistan all increased.
Contrary to China, the importance of the Japanese market in global shrimp trade is fading with shrimp imports decreasing over the past two decades. Consumers' demand for this product remained low while consumption of shrimp at restaurants and food services decreased sharply. Japan's shrimp imports reached a record low of 174,100 tons during the first nine months of last year, down 4,7% year-on-year. Import of raw shrimp and processed shrimp decreased by 3,2% and 6,6% respectively.
Escape the shadow ofCOVID-19?
COVID-19 is booming with formidable destructive power like the tsunami in some European countries, Asia, especially India – one of the largest shrimp supplies in the world. According to FAO experts, except China, the demand for shrimp continues to decline in markets in the Asia-Pacific regionin general. Sales of shrimp at restaurants fell sharply, greatly affecting the overall consumption of the market, while the retail price of shrimp remained high in most markets in East Asia. Important shrimp import markets, including Korea, Taiwan, Singapore and Malaysia, also fell. The weak global trend will continue in Gulf Cooperation Council (GCC) markets in the Middle East, with declining shrimp imports.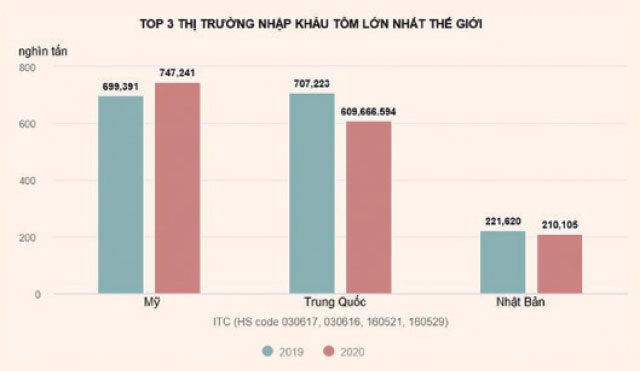 Even in the situation where the supply is generally low, the selling prices of frozen shrimp still tend to weaken. Last year, from April to September, the export price of Ecuadorian market decreased to the lowest level in the world. From October 2020, the price of farm gate shrimp was bottomed, mainly in large and medium sizes, while the price of small shrimp improved. Fresh shrimp prices in Asia remained stable and started to increase from October 2020.
Unfortunately, COVID-19 has come back and cast a shadow on the shrimp industry in particular. Curfews and blockades are being increased in North America, Europe, Asia and many other places, forecasting supply and demand for shrimp in the market this year is still relatively blurred and bleak up to the present time. Shrimp harvests in East Asia are expected to increase in February to serve the demand during the New Year's Eve, however, the New Year holidays at the beginning of this year which are not being celebrated as loudly as they did in previous years by COVID-19, has caused an unfavorable start to the overall shrimp market, including frozen shrimp.
>> According to FAO, the global shrimp market is worth about 40 billion USD, the global commercial shrimp value is estimated at 28 billion USD/   year, mainly vannamei farming in Asia and Latin America. Due to the appropriate price, China has become a major consuming market for the Vietnamese shrimp industry. It is forecasted that the fast growing middle class in the world's most populous market will help the shrimp industry maintain its growth rate of 10% per year, estimated at 600 million USD per year.
VFM