News
Vietnamese seafood ready to go to China upon new decision from Jan 01, 2022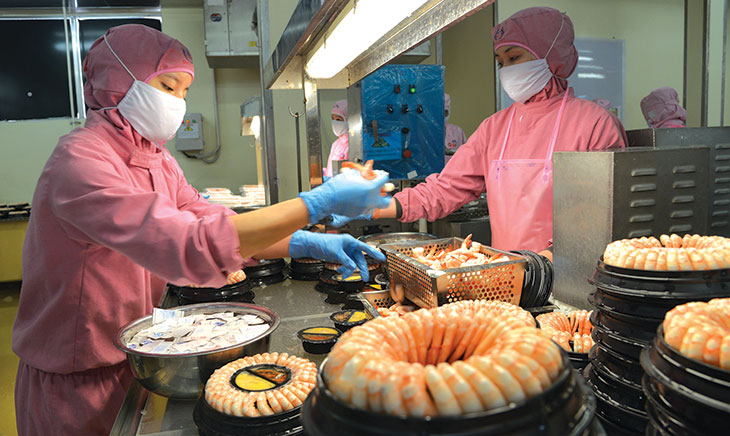 Large enterprises have fulfilled documents to export key species to the Chinese market upon the new decision from January 01, 2022.
Deputy Director of Vietnam Sanitary and Phytosanitary Notification Authority and Enquiry Point (SPS Vietnam) said that from January 01, 2022, China will officially impose Order no.248 (regarding the regulations of registration of food importing companies) and Order no.249 (regarding the measures of management of imported food safety).
To satisfy these new regulations, as many as 336 enterprises have fulfilled and submitted the registration documents to the General Administration of Customs of the People's Republic of China (GACC), with 156 of them related to exportation of traceable seafood products registering with the Department of Plant Protection, 92 of them regarding to exportation of seafood registering with the National Agro-Forestry-Fisheries Quality Assurance Department, and 88 of them registering with the Ministry of Industry and Trade. 
Moreover, many enterprises have registered directly with the GACC since November 01, 2021 and the data will be collected by the SPS up to December 31, 2021. 
Nam added that enterprises coming to register were divided into three groups for easy support: large sized companies related to frequent exportation to China, small and medium sized companies, and companies researching the Chinese market for shifting from unofficial quota trade to official quota trade.
Deputy General Director of Agrotrade under the Ministry of Agriculture and Rural Development Lê Thanh Hòa said that from January 01, 2022, as for customs declaration, documents subjected to the exported products must be issued by GACC. Otherwise, exported products will be rejected for customs clearance. 
According to the SPS Vietnam, there are four kinds of products registered for exportation into China and coded, including meat and meat products, seafood products, milk products, salanganes nest and salanganes nest products. Thus, exportation of these products will be carried out as usual upon the two countries' regulations.
VFM