News
Vietnamese shrimp sector face challenges due to Covid-19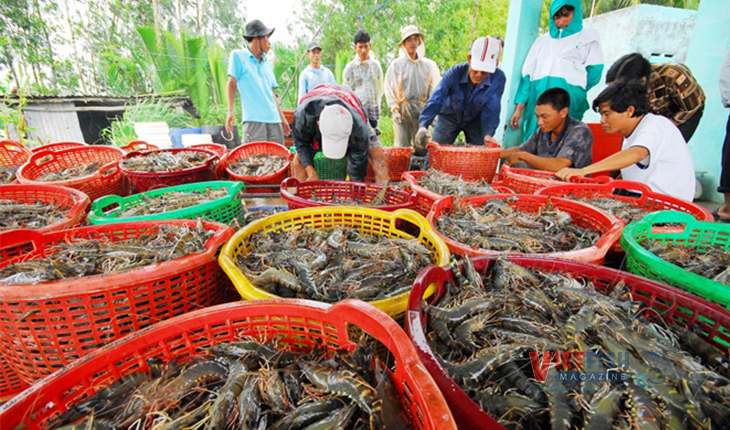 The outbreak of the Covid-19 epidemic has resulted in multiple companies in China halting their purchases of Vietnamese products. Trading between two nations has not been able to come back to normal, forcing Vietnamese products to seek new destinations.
Difficult trading
China is the forth buyer of Vietnamese shrimp with import volume taking 16% of the total Vietnamese shrimp going to the world and the biggest destination of Vietnamese black tiger shrimp. Even though Vietnam saw a decrease by 22.5% in black tiger shrimp exports to China last year, this product accounted for 41% of all shrimp products going to this market.
Early 2020, the outbreak of coronavirus in China has seriously hit the global economy. "Vietnam's shrimp sales in China are forecasted to fall in quarter I of this year", shared a local shrimp exporter in mid way through its export of 600 tons of shrimp to China and reluctantly warehousing the remaining half.
The global shrimp market is also forecasted to experience a drop following a plentiful supply from Ecuador, India and Thailand, that have been China's top suppliers and are getting stuck at Chinese ports without clearance. Many ships are apparently unable to dock in China's ports due to deactivated or delayed packaging and loading. These countries are racing to seek other buyers like the US or EU, resulting in Vietnam's challenges in selling its shrimp to these countries. On the other hand, Korea, US and EU are reluctant to buy shrimps from foreign sellers and make new deals with producing and exporting companies amid Covid-19 fears.
However, companies with small market shares in Chinese market appear fairly optimistic, such as Sao Ta with 0.5% market shares in China. Sao Ta's representative said that China is interested in Vietnam's big-size black tiger shrimps but they are now out of season and output can not cover all contracts. That's why the company does not face the difficulty of selling the species this time.
Chinese consumers may change their awareness and habits, eliminating fresh products and buying more processed products for sanitary and hygiene assurance. China's demand in shrimps may grow while consumers reduce their purchases in fresh lobsters and frozen tuna.
Hope in EU
During the global spread of deadly coronavirus, local producers and exporters must seek new markets and develop domestic one while waiting for the Chinese market to come back to normal. They are advised to follow updates of the epidemic and adjust the production schedule timely.
Shrimp sector is expected to develop in 2020 following the approved EU-Vietnam Free Trade Agreement which promises to facilitate Vietnamese shrimp sales in this market. The EVFTA will eliminate tariff on Vietnam's seafoods going to the EU market from 12-20% to 0% once the treaty becomes effective. The tariff will stay at 0% within 7 years since the effective date of the agreement.
The International Trademark Association (INTA) and European Parliament (EP) voted to ratify the EVFTA. Vietnam must take part in three more conventions of the International Labor Organization (ILO) related to labor rights to gain EU's approval. Then, EP will vote for the EVFTA and the Investment Protection Agreement (IPA) during the meeting held in Strasbourg of France on Feb 2020. If approved, EVFTA will officially become effective. Vietnam is the second trading partner of the EU among the ASEAN nations after Singapore, with EUR 47.6 billion worth of exported products and EUR 3.6 billion worth of services each year, according to statistics by the Delegation of the European Union to Vietnam.
VFM