News
VietShrimp International Fair 2020 will be held in Cần Thơ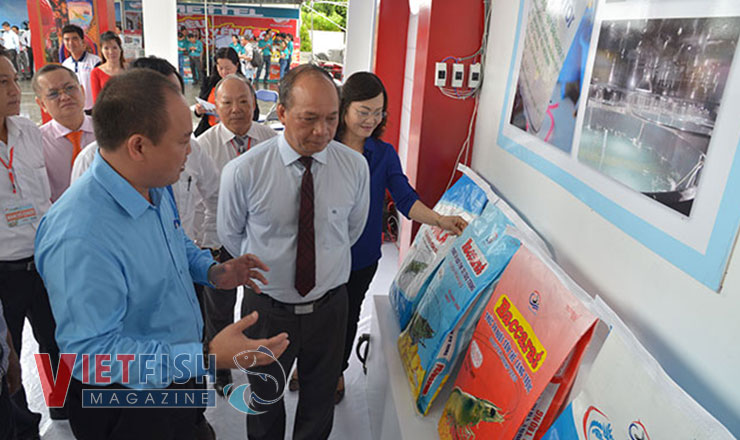 In the morning of May 10, representatives of different sectors in Cần Thơ worked with Vietnam Fisheries Society and expressed their enthusiasm for VietShrimp International Fair 2020 with theme "Sustainable goal"
In the working session held in Cần Thơ provincial Trade and Industry Department (TID), Chairman of Vietnam Fisheries Society (VFS) Nguyễn Việt Thắng said that VietShrimp 2020 would be held in March 2020 with an aim to introduce new technological products and modern system, which promise to connect the production and consumption to enhance the yield and value of Vietnamese shrimp. The fair will cover 200 booths and four workshops.
VietShrimp 2016 and 2018, held in BạcLiêu province, attracted more than ten thousand visitors from the US, Netherland, UK, Australia, German, Singapore, Malaysia, Indonesia, China, and India and many managers, scientists, companies and shrimp farmers. The fair affirmed its stature in the Southeast Asia region and Asia. "Continue its success, VietShrimp 2020 is going to be held in Cần Thơ – the Center of Mekong Delta, to create more opportunities for market expansion and business connection in shrimp industry", said Thắng.
Director of Cần Thơ TID Nguyễn Minh Toại said "CầnThơ is willing to support and create favorable conditions for VietShrimp 2020 success. We suggest that organizers should focus on giant freshwater shrimp besides black tiger and whiteleg as they have been bringing high economy value. If so, farmers can replace two-crop field with one crop of giant freshwater shrimp and one of organic rice in Cần Thơ"
Trần Hữu Phú, Vice Manager of Promotion Center of Trade-Investment and Cần Thơ Exhibition Fair expressed his opinion that: "Viet Shimp 2020 is very welcomed being held in Cần Thơ. We will do our best to support the fair and use the Center's website for advertisement and promotion".
Representatives of Agriculture and Rural Development Department and Fisheries Sub-Department of Cần Thơ were so excited to support VietShrimp 2020. Representatives of Agriculture and Rural Development Department said that there would be many booths for companies and cooperatives to participate. Cần Thơ was good at production technology of giant freshwater shrimp post-larvae, said a representative of Fisheries Sub-Department of Cần Thơ.
Vietnam Fishery Magazine (VFM) is assigned to work with VIETNAM MEDIA Company to hold VietShrimp 2020. VFM's Editor in Chief Dương Xuân Hùng said that there would be Standard Booth and Special Booth located in sections oftechnology & machines; biology products, feed, veterinary medicine;l ivestock breeding; and services. Four or five workshops might be titled Appliance of 4.0 technology in shrimp farming; Shrimp farming for safety and sustainability – urgent matter; Feed management for benefit improvement in shrimp farming; Chain link and trending production of shrimps for climate change adaptation with the attendance of leading experts in the country and abroad.
VietShrimp 2020 is proposed by VFS in the Official Document no.19/HNC dated March 18, 2019, Cần Thơ TID in Submission no.856/TTr-SCT dated April 18, 2019. Then, Cần Thơ People's Committee stated their agreement in the Official Document no.1303/UBND-KT dated April 25, 2019 and required relevant agencies to provide a performance plan. General Directorate of Fisheries also agree in the Official Document no.983/TCTS-KHCN&HTQT dated May 02, 2019.
VFM