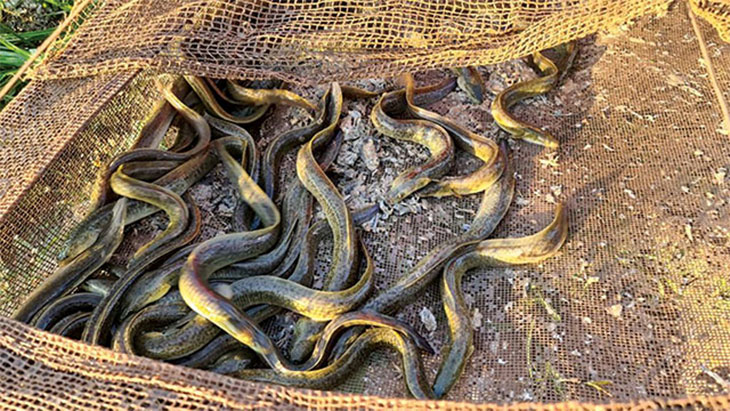 Over the past time, Bình Định Agriculture Extension Center has overcome various obstacles of the COVID-19 pandemic to successfully build a lot of fishery extension models with high economic efficiency for farmers and fishermen. Besides, this model also positively contributes to the agricultural sector growth of the province.
Considerable benefit
In 2020, especially for the fisheries sector, Bình Định Agriculture Extension Center carried out 4 groups of models with 7 trials.
Typically, the model of vannamei farming applying Semi-floc technology with Automatic Shrimp was implemented in Nhơn Hội commune, Quy Nhơn city on an area of 1,500 m2. As a result, the survival rate of shrimp was 90%; the average size of shrimp for harvest was 44 pieces/kg; the output was about 6.2 tons (41 tons/hectare) with a profit of 329 million VND.
The model of commercial mullet farming was implemented in Phước Thành commune (Tuy Phước district) and Tam Quan Bắc ward (Hoài Nhơn town ). The average rate of survival was 81 % with a profit of 116.3 million VND on an area of 6,000 m2; the average output was 2,916 tons, and the average yield was 4.86 tons/hectare. Farmers gradually convert from shrimp farming to mullet farming, both of which bring economic efficiency and improve the pond environment. With an area of 1,000 m2, the model of orange-spotted spinefoot farming in a household in Cát Khánh commune (Phù Cát district) gained a profit of 11.8 million VND with the survival rate of  90%. The size of fish for harvest was qualified and uniform.
Similarly, the Center implements the "Integrated crab and orange-spotted spinefoot farming'' model aiming to reduce the disease risks, improve the ecological environment, and increase farmers' incomes. After 4 months of farming, the weight of crab and fish reached 300 grams/piece, 100 grams/piece respectively; and the yield of crab was estimated at 2.4 tons/hectare.
In addition, the Center has successfully applied the provincial scientific and technological research on artificial propagation, commercial nursing-farming of square-head anabas transferred by the Provincial Breeding Center for Marine Aquaculture. The model was put into practice in an earthen pond of 500m2 by households in 3 communes: Canh Hiển (Vân Canh district), Bình Tân (Tây Sơn district), Vĩnh Hòa (Vĩnh Thạnh district). The initiative in postlarvae contributes to good growth and high survival rate (90%). Moreover, the commercial size of perch is uniform (average 200 grams/piece), the output is 2.7 tons with a profit of nearly 42 million VND. 
Continuing implementation
Bình Định Agricultural Extension Center is currently coordinating with other units to expand fishery models.
Regarding exploitation, the Center, along with the Provincial Sub-Department of Fisheries implements a model of nanotechnology application to preserve products on two fishing vessels in tuna exploitation and consumption chain in Hoài Nhơn town. In the past, seafood was preserved with crushed ice but this method has numerous drawbacks; nanotechnology will improve the preservation efficiency and product quality. Therefore, the purpose of the model is to find the most suitable application method for the ships' condition and fishermen's equipment. Other fishing vessels in the province are encouraged to preserve products according to this technology. 
In the aquaculture field, the Center continues to coordinate with localities to implement three more trials of shrimp farming which apply Semi-floc technology in 2 households in Phù Cát district and 1 household in Phù Mỹ district; the model of commercial marbled eel farming is implemented in an earthen pond with an area of 500 m2 in a household in Phù Mỹ district. Especially "Commercial eel farming in earthen ponds" model, the Center in collaboration with the Phù Mỹ Agricultural Service Center implements on an area of 500m2 pond of Mr. Nguyễn Phương (Hamlet 1, Mỹ Thắng commune). Mr. Phương is supported 50 % postlarvae, essential materials to build the model. Besides, he is also technologically by the Agricultural Extension Center during the farming process.
The Center has recently stocked 500 juvenile marbled eels. The stocked juveniles are of uniform size (about 100 grams/piece ), have flexible swimming ability with no loss of slime. Mr. Phuong said that this model draws the attention of those who farm marbled eels in the village, they will apply it if this model is successful.