Aquaculture
Khánh Hòa: Regardless of overloaded aquaculture planning, cages keep blooming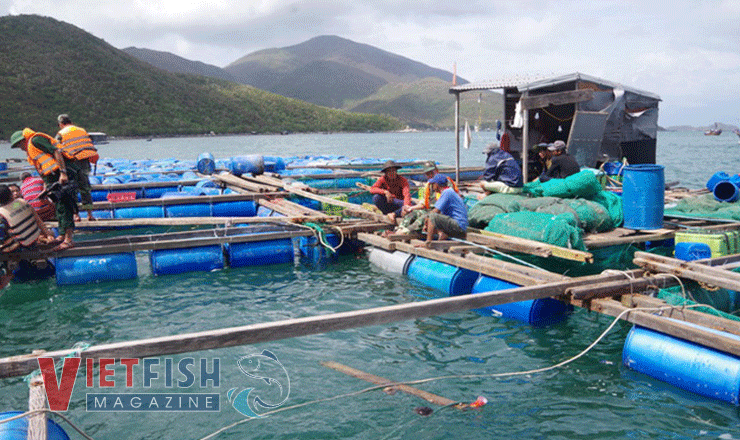 Demand in aquaculture of coastal areas in Vạn Ninh (Khánh Hòa province) is big while water surface area is limited, leaving the area always being overloaded.
Marine conditions in Vạn Ninh are favorable to aquaculture development but the effect of economic development projects has narrowed water surface area for aquaculture. Increasing demand in aquaculture has led to overload situation and spontaneous farming beyond plans. Cages that are installed at high density have caused environmental pollution, disease outbreaks, and challenges in social order management in the area.
"Overload situation in lobsters and cobia farming in Vân Phong bay has arisen in a long time. Farmers use the land beyond the planning area for aquaculture", said farmer Nguyễn Văn Hùng,who is involved in lobster farming in Vạn Thanh commune of Vạn Ninh district.
Besides spontaneous aquaculture beyond planning area, the province is farcing challenges in managing cages owned by outsiders. According to incomplete data from coastal areas in Vạn Ninh there are at least 262 households from other provinces coming here to engaged into aquaculture with 707 farmers involved in 13,141 lobster and marine fish cages. Moreover, some have local residents undersign their name to invest into aquaculture in Vân Phong bay.
Overloaded cages have madethe water seriously polluted, causing massive death of species. Many farmers had to remove cages to other places where however are overloaded either.
Nguyễn Ngọc Ý, Head of Economic Office said the district proposed to add more favorable aquaculture areas into the planning to deal with increasing demand of cage farming. Particularly, the district worked with Khánh Hòa provincial Department of Agriculture and Rural Development and authorities to survey and evaluate proposal of People's Committee about additional farming areas.
Besides, the provincial Department of Agriculture and Rural Development is requested to consult People's Committee to issue temporary regulations to manage and control cage farming activitiesand develop detailed plan of farming areas.
As for controlling cages by farmers from other provinces, Đặng Tri Thông, a specialist of Economy Office in Vạn Ninh said "We will control number of farmers from other provincesby granting aquaculture licenses in accordance with Fishery Law 2017 and strictly handle households that are poor qualified for effective management of aquaculture in Vân Phong bay. If farmers from other provinces are qualified enough and farming areas meets requirements, they will be enabled to keep their work".
VFM