Aquaculture
Develop marine aquaculture: Strategic direction of fisheries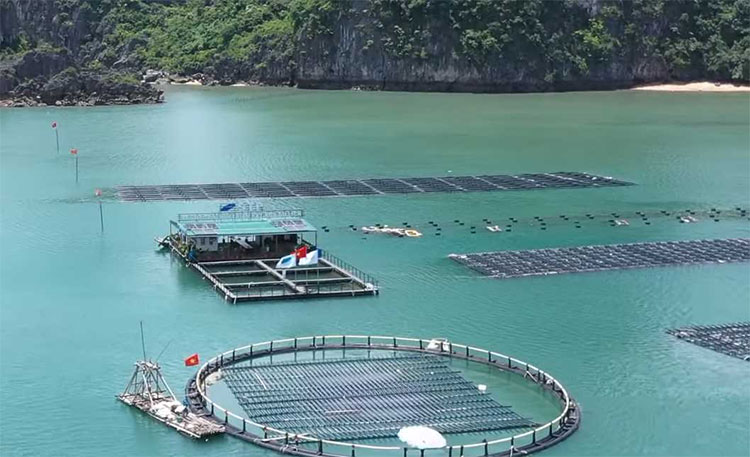 The project of developing the aquaculture until 2030, vision 2045 involves reaching 300,000 ha of marine aquaculture and output of 1.5 million tons in 2030. A coherent solution is a must.
Chance for breakthrough
Vietnam's marine aquaculture is changing considerably; besides mollusks which have been cultured for years, sea fish, algae, and seaweed are developing. The total output from marine aquaculture reaches 670,000 tons in 2022, up 3.5% from 2021, with 40,000 tons of sea fish, 2,200 tons of lobster, 395,000 tons of mollusk, and 233,000 tons of other species. While aquatic resources have reduced, marine aquaculture must be boosted to compensate for the exploited amount. Developing marine aquaculture must be carried out together with ecosystem protection and biodiversity.
In provinces in the South Central, developing marine aquaculture with cages has helped local farmers to boost the economy. Khánh Hòa is an icon in boosting fish cage farming in the South Central as the province has 385km of the coast line, more than 200 islands, 3 bays, and 2 lagoons, greatly facilitating lobster culture.
Võ Khắc Én, Deputy Director of the Sub-department of Fisheries in Khánh Hòa said that cage farming had been formed since 1990. Just very few cages were installed in the first place; however, after lobster culture in cages brought in high economic efficiency, farmers shifted to this model. The number of cages increased all over the province and reached 75,000 now, with about 64,500 cages of lobsters and 9,740 cages of marine fish. Cages are mainly installed in Vạn Ninh, Cam Ranh, Ninh Hòa, and Nha Trang city.
Cage farming has been formed for 30 years in Phú Yên. According to Phú Yên provincial Department of Agriculture and Rural Development, the province has spent more than 1,600 ha of water surface rearing lobsters and marine fish. Lobster farming area is mainly in airtight bays and ponds such as Xuân Đài, Cù Mông (Sông Cầu town), coastal areas in An Ninh Đông, An Hòa, An Hải và An Chấn (Tuy An district), and Vũng Rô bay (Đông Hòa town). There are about 100,000 cages here.
Determine challenges
Aquaculture, marine culture included, is facing great difficulties. In the very first years, with a steady water environment, cage farming helped farmers in the South Central achieve success without any failure. However, the water environment has become a problem recently and has been unsuitable for aquaculture. According to statistics over the years, water resources for aquaculture became worse and worse, especially the criteria of dissolved oxygen, NH3, and PO4.
Farmer Nguyễn Văn Vững, with 20 cages of green lobsters in Phước Lý street of Xuân Yên ward (Sông Cầu town, Phú Yên province), said that when water resource for aquaculture in Xuân Đài bay has not been seriously polluted as now, rock lobsters could be harvested after ten months of stocking and green lobsters took seven months. Due to water pollution, lobsters weigh up slowly, it takes at least over a year to rear rock lobsters which just weigh up to 6-7 grams each when harvested; meanwhile it takes 8 months for a green lobster to reach 2 grams.
Trần Đình Luân, General Director of the Directorate of Fisheries anticipated that following legal regulations in marine aquaculture was the key to sustainability. Thus, farmers should be informed to know why the water surface for marine culture must be assigned, why cages must be registered, and why technical processes must be followed.
Regulations must be followed strictly so that farmers can avoid risks related to the environment, the markets, especially avoid disputes in farming areas. And such, localities can either exploit the potential of marine culture or protect biodiversity, ensuring sustainable development of the marine ecosystem. This is a way to develop the marine culture sustainably.
VFM