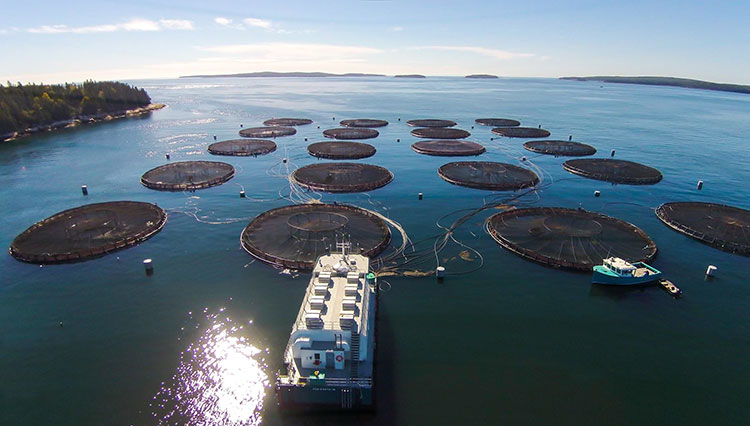 Vietnam's goal by 2030 is to achieve a marine aquaculture production of 1.45 million tons, with exports ranging from 1.8 to 2 billion USD. Currently, marine aquaculture remains largely manual and needs a restructuring towards increased technological advancements, planning for aquaculture areas, and ensuring environmental control for sustainable development.
Initial achievements in Quảng Ninh
Quảng Ninh province, with over 6,000 km2 of sea area, possesses substantial potential for marine fish farming. Presently, there are more than 15,000 marine fish farming cages spanning an area of around 2,200 hectares, concentrated in Vân Đồn, Đầm Hà, Hải Hà, Cẩm Phả.
Đỗ Đình Minh, Dead of the provincial Fisheries Sub-department, stated that in 2022, marine aquaculture yielded 87,000 tons, accounting for over 54% of the total seafood production of 161,000 tons. This shift has reduced the proportion of wild-caught seafood from nearly 57% in the past to approximately 46% today (the marine aquaculture production accounted for just 43% in 2014)..
Quảng Ninh is also advancing the industrialization of aquaculture, particularly through the replacement of traditional materials with more durable and environmentally friendly materials. The Phất Cờ Cooperative in Vân Đồn district, one of the leading facilities, utilizes HDPE material for marine fish farming. The cooperative, in collaboration with the Super Trường Phát Plastic Group, has built a marine farm combined with ecotourism.
The 5-hectare farm includes a center building, a 240 m2 guest reception area with a capacity of over 60 people, fish cages for visitors to swim, and a check-in platform covering 16 m2. The fish cages range from square cages measuring 16–30 m2 to circular cages with a diameter of 12 m for the culture of pompano, grouper, and seabass.. Visitors can experience fishing on rafts and enjoy self-caught seafood. Nguyễn Thị Hải Bình, CEO of Super Trường Phát Group, emphasizes that the integration of marine aquaculture with ecotourism is a strategic direction to unlock the potential of Vietnam's coastal areas.
Multi-Sector Integration
Associate Professor Dr. Nguyễn Hữu Dũng, Chairman of the Vietnam Aquaculture Association, highlights that the sustainable development of the marine aquaculture industry requires a multi-sector approach. Firstly, it involves combining aquaculture with tourism. Marine aquaculture promotes the growth of production and supply of HDPE and composite materials, the development of shipbuilding to supply marine aquaculture equipment, automatic feed dispensers, specialized ships, and canoes. The energy and mechanical industries are also expanding to mechanize aquaculture, generate power from solar, wind, waves, and tides, and desalinate seawater. Simultaneously, automation technologies are being developed to manufacture automated feeding systems and real-time marine environmental monitoring, as well as underwater cameras. Biological technologies are evolving to provide probiotics, vaccines, bioproducts, and high-value bioproducts from marine organisms.
In line with the strategy of combining aquaculture with tourism, Associate Professor, Dr. Phạm Quốc Hùng at Nha Trang University proposes five solutions: Firstly, referring to international aquaculture and tourism models and adapting them to Vietnam's conditions. Secondly, create pilot models for economic, social, environmental, and ecological impact assessments. Thirdly, establish and preserve the marine aquaculture ecosystem. Fourthly, provide aquaculture workers with practical tourism knowledge and skills. Fifthly, a national comprehensive plan should be given.
Vietnam has already established marine aquaculture in three famous tourist centers in the North, Central, and South, including Quảng Ninh, Khánh Hòa, and Kiên Giang. Quang Ninh focuses on marine fish and mollusks, Khanh Hoa on lobsters, and Kien Giang on pearl farming in Phu Quoc city.
Shifting from manual to industrial
Associate Professor Dr. Nguyễn Hữu Dũng emphasizes the transformation from traditional fishing to commercial fishing: moving from inshore and nearshore marine farming to open sea and offshore farming, implementing integrated multi-trophic aquaculture (IMTA) involving fish, mollusks, and seaweed. The integration between aquaculture and other marine economic sectors, such as tourism, oil and gas, plastics, wind power, and maritime transport, is essential.
For further development of marine aquaculture, research is needed to assess the environmental carrying capacity for aquaculture zone planning. Protection of genetic resources and the development of broodstock for high-value native seafood species is also crucial. Research on artificial and natural reproduction for certain seafood species, industrial feed production for high-value species, seaweed and mollusk processing into food and pharmaceuticals, and the application of digital technology, mechanization, automation, and new energy sources to the marine aquaculture industry are essential.
Dr Nguyễn Hữu Dũng suggests the development of high-tech marine fish farms, RAS (Recirculating Aquaculture Systems) hatcheries, industrial clam and oyster farming with microalgae feed additives, seaweed cultivation on fabric, crab farming and processing, IMTA models, offshore marine aquaculture vessels, and marine aquaculture combined with tourism and wind power.
Opportunities for the shipbuilding industry
According to Dr. Nguyen Huu Dung, one of the sectors that can support the development of marine aquaculture is the shipbuilding industry. In particular, the construction of large offshore aquaculture vessels, similar to China's model, is a suggestion that Vietnam can consider. Moreover, the shipbuilding industry can also produce vessels for the transportation of aquaculture services and the production of automatic feeding equipment for marine cages through mechanization and automation.
Dr. Dung recommends that the Vietnam Association of Shipbuilding and the Vietnam Aquaculture Association jointly propose to the Government the construction of large-scale industrial offshore aquaculture vessels to expand the industry's scale and reduce waste. Furthermore, Dr. Dung also suggests reaching an agreement for cooperation with the Association of Science and Technology for Shipbuilding so as to test and apply equipment and machinery to serve industrial marine aquaculture. Additionally, he suggests that both associations collaborate to design industrial marine aquaculture equipment combined with maritime ecotourism.
VFM