Aquaculture
Đồng Nai: Giant river prawn culture in Trà Cổ mountainous region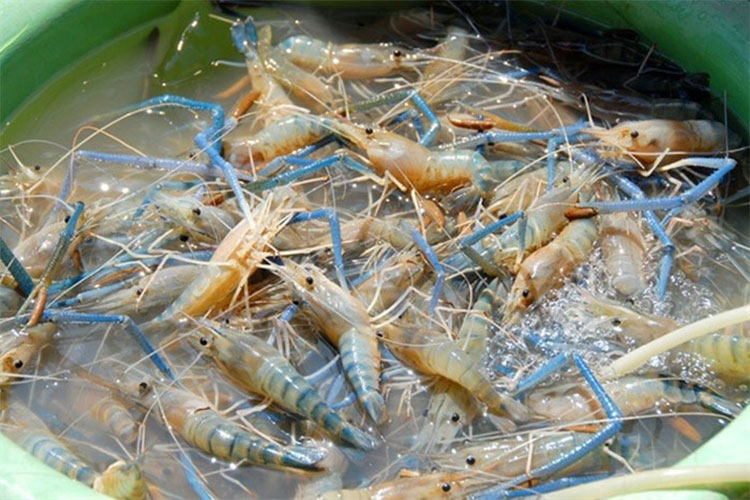 When it comes to giant river prawn, people think of river deltas. However, thanks to this specialty, farmers in Trà Cổ mountainous region (Đồng Nai province) have changed their lives.
Trà Cổ mountainous region commune of Tân Phú district (borders Lâm Đồng province) is considered the capital of giant river prawn of Đồng Nai province, even the only place of the country succeeding in culturing this species in the mountainous region.
Former Chairman of the Farmers' Union of Trà Cổ commune, Lương Văn Thạch, 80, is the one who brought giant river prawn from rivers to this mountainous region 20 years ago. "Farmers can save as many as 50% of the production cost by feeding giant river prawns with low valued fishes available in ponds, lakes, rivers, and streams in the farming area. As water used for shrimp culture is taken from clefts of rocks, it is not polluted. Besides, natural algae in ponds enable shrimps to weigh up well with flesh being sweeter and tastier than shrimp from other regions. Thus, local giant river prawn is sold at a higher price than others in the South", shared Thạch.
For sustainable production and trade mark development, a Cooperative of giant river prawn was founded in Trà Cổ commune with 32 members in 2015 upon support by the local People's Committee.
In 2016, Đồng Nai's sub-department of Fisheries instructed and supported cooperative members to follow the VietGAP giant river prawn farming model in the 30 ha land.
As farmers were carefully instructed in farming techniques, water source treatment, breeding stock selection, and shrimp pond protection, the quality and quantity of shrimps have been improved over the last few years.
Hoàng Văn Bính, Head of the Cooperative said that with the VietGAP model, farmers had to invest much money and put hard effort in rehabilitating, cleaning ponds and reducing antibiotics. All the courses from stocking to selling must be recorded in a diary. In exchange, farmers are satisfied with good productivity, high quality and stable prices.
Huỳnh Thanh Tân, Chairman of People's Committee of Trà Cổ commune, said that thanks to good water source, giant river prawns in Trà Cổ are as tasteful as natural shrimps, thus, they are well consumed in the market. The price of local giant river prawn is 10,000-20,000 dong/kg higher than western shrimp despite smaller size.
For sustainable production, trademark is an urgent matter. The local authority is finalizing the registration of OCOP for Trà Cổ giant river prawn. Local shrimp farmers have recently been pleased as the Đồng Nai provincial department of Science and Technology gave them the certificate of unique label of Trà Cổ giant river prawns.
VFM