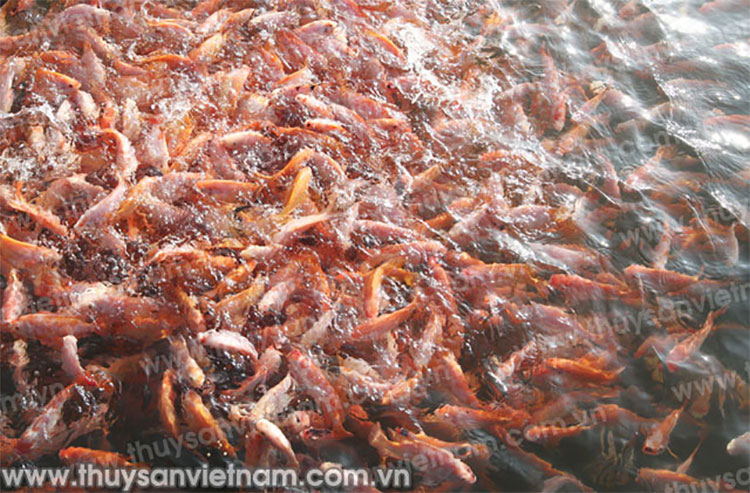 To escape poverty, a Cơ tu young boy in Quảng Nam province has taken advantage of large water surface in Đắc Pring hydropower reservoir to raise caged red tilapia.
We traveled by motorboat to reach the caged red tilapia farming site in Đắc Pring hydropower reservoir, owned by Mr. Arâl Dom (Pring village, Chà Vàl commune, Nam Giang district, Quảng Nam province). Mr. Dom raised 4,500 fingerlings in an experiment pond after a period of model researching.
Before applying the red tilapia cage culture approach, Mr. Dom had farmed chickens and pigs. Hundreds of free-range chickens were raised to supply locally. However, after 2 years, this model was impossible to maintain due to the erratic weather condition. As a result, he decided to borrow capital to invest in fish cage farming after a period of seeking knowledge.
Mr. Dom said that it did not take much time to raise red tilapia because of its good adaption to the natural environment. Fish grew well after only 6 months of experimental farming, and he sold more than 2 tons. He could earn more than 120 million VND with the selling price of 50,000 – 70,000 VND/kg on the site. Realizing the high economic efficiency, he invested 3 more cages and stocked about 5,000 fingerlings.
Local people often order when knowing Mr. Dom's model of raising red tilapia. The stable income from this approach stimulates numerous young people in Chà Vàl commune to convert from acacia growing to fish cage culture. In particular, Mr. Dom is always enthusiastic to share his experience with others. 
Fish cage culture was not new, according to Mr. Bùi Thế Anh, Secretary of Nam Giang district HCYU, but it was not popular in Nam Giang mountainous district. Mr. Dom was the peer in the red tilapia cage farming model at local. The local authorities would research and assess specific effects for replication in the future. 
Mr. Bùi Thế Anh said: "Nam Giang and several mountainous districts currently have hydroelectric reservoirs, red tilapia culture is considered an advantage for young ones to implement combined breeding models. District Young Union will call for support of capital, seed, and food to assist local youth in maintaining effective economic development models, toward escape poverty. We always encourage young people to
set up their own businesses and get rich with products and economic models which are suitable to market needs and practical life".
VFM