News
Shrimp broodstocks be granted "identification" card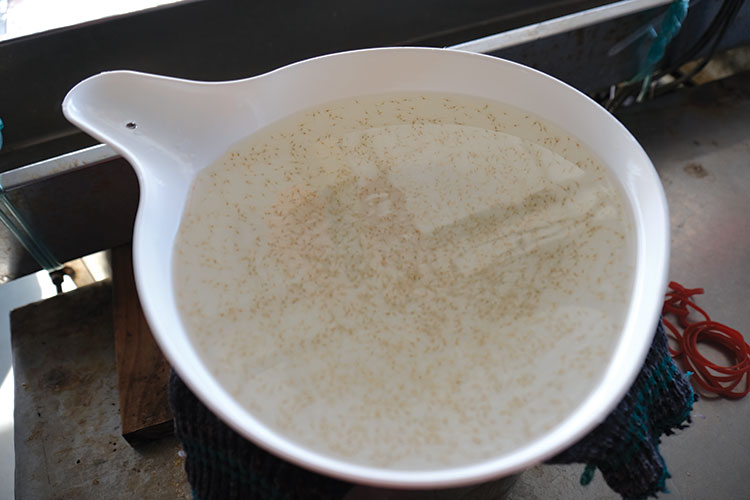 After years of genetic selection, the Ministry of Agriculture and Rural Development officially allows Viet Uc Corporation to put adult white leg shrimp into commercialization, marking a breakthrough for Vietnam's shrimp sector.
The genetic selection of shrimp broodstocks has brought Vietnam to one of the four major countries (the US, Singapore, Thailand, Vietnam) that can self supply shrimp broodstocks, leading to a change in the rank of Vietnam's shrimp sector in the world. Thus, Vietnam can be active in production of hitech shrimp broodstocks, bringing higher success rate and profit for farmers. 
Consecutive Chief Officer of Viet Uc Quang Ninh Ltd., Co Nguyễn Xuân Thắng said that after a long time of research, Viet Uc had shrimp broodstocks improved in characteristics, with either focusing on quick growth or raising resistance, being well adaptive and specific pathogen free.
The program of genetic selection of shrimp broodstocks involves select and storage of the most preeminent genes. Characteristics of the selected broodstocks will be developed so that more and more preeminent generations will be produced.
In 2021, the hitech post larvae VUS LEADER 21 was produced. It was famous for preeminent characteristics such as faster growth (10%) than previous generations, higher resistance, and better adaptation.
Nguyễn Xuân Thắng says that every person has an identification, why not Viet Uc's shrimp broodstock. The electronic technology allows an individual shrimp to be chipped as an "identification card". Thus, shrimp are individually classified and monitored so as to prevent inbreeding and enable traceability.
Viet Uc has been applying updated research related to biotechnology such as Gen/AND and Molecular genetics, hence, decoding the genome of shrimp on a large scale.
Determining the role of aquatic breeds, Quảng Ninh has paid attention to production and importation of qualified breeds so as to satisfy farmers' demand. Head of the Sub-department of Fisheries of Quảng Ninh province Đỗ Đình Minh said that the province planned stock 7,800 million heads in 2025, with 5,460 pcs being self-produced, meeting about 70% of the local demand. 
VFM