Aquaculture
USSEC Aquaculture program introduction in Vietnam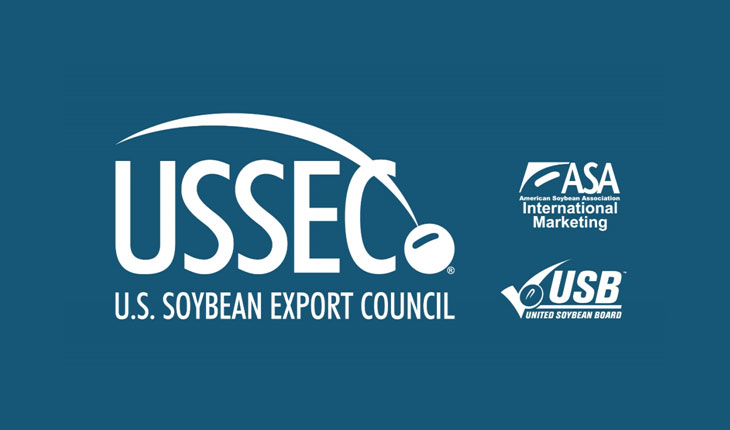 U.S. Soy Export Council (USSEC) is a non – profit organizationwhich is comprised several other collaborative and complementary organizations such as the American Soybean Association (ASA), the United Soybean Board (USB), Qualified State Soybean Boards (QSSBs)and U.S. industry members.
U.S. Soy Export Council
USSEC's global network is divided into eight international regions witha USSEC presence in Americas, Europe, Middle East/North Africa, Greater China, Northeast Asia, South Asia, Southeast Asia and Sub-Saharan Africa.Through a global network of international offices and strong support in the U.S., we help build a preference for U.S. soybeans and soybean products, advocate for the use of soy in feed, aquaculture and human consumption, promote the benefits of soy use through education, and connect industry leaders through a robust membership program.
U.S.Soy Advantages
Soy protein is an excellent source of protein for the feed industry worldwide, and it is an important protein source in aquaculture diet due to its high crude protein content, balanced amino acid profile, and high level of digestibilitymost cultured fish and shrimp species, and can replace high-cost animal proteins and yield rapid fish growth.
The United States is one of the world's largest producers of soybeans, exporting more than 50% of its total production.The U.S. soy industry relies on its high soil fertility, proper climate, excellent plant genetics and outstanding crop management from farm to port to produce and deliver the highest quality soybeans, soybean meal and soybean oil in the world.New science data shows that U.S. soybeans are not only a higher quality ingredient, but can increase the profitability of your business by providing more value, more nutritious than soybeans from other sources.
U.S. soybean production is based on a national system of sustainability and conservation laws and regulationscombined with careful implementation of best production practices by soybean farms. The vast majority of U.S. soybean farmers follow the conservation regulations and farming practices outlined in the U.S. Soybean Sustainability Protocol, or SSAP.Sustainability, once seen as a potential trade barrier, has turned out to be a strong competitive advantage for U.S. Soy.Sustainable U.S. Soy logo (SUSS logo)can be printed on product packingif it comprises 60% or greater of U.S. Soy product.
U.S. soy has its global AQ technical support while others don't have. USSEC has worked since 1985 in aquaculture. Under the Global Soy in Aquaculture program, USSEC strives to promote a profitable and sustainable approach to aquaculture that specifically shows the utility and value of U.S. soy products or in other words, we want to see a larger, long-term, feed-based aquaculture industry – we feel the industry's success will be ours as well.
USSEC AquacultureProgram in Vietnam
Vietnam is the second largest aquaculture producer in Southeast Asian Region which produces 4.5 MMT annually mainly freshwater fish and brackish water shrimp that demands about 5 MMT of commercial feed and 2 MMT of soy. In order to support aquaculture development, USSEC has implemented various technical events such as meetings, seminars, trainings, workshops, industry tours and feeding demos toeducate, introduce and promote new sustainable approachesthroughout USSEC's Aquaculture Program as below;
In pond Raceway System (IPRS) is advanced aquaculture technology that USSEC introduced in Vietnam first in Southeast Asian Region in 2015. The most important value of technology are long term sustainability and high productivity compared to the traditional pond aquaculture. Approximately 300 raceways have been built in Northern Vietnamand started expanding to the Southern Vietnam for Pangasius production.
The International Aquaculture Feed Formulation Database (IAFFD) is an open access, free of charge, database that provides a potentially valuable tool to aquaculture industry formulators https://www.iaffd.com/. Wealso conduct annual training on aquafeed formulation for formulators ofthe feed mills targeting to U.S. soy custumers.
Offshore marine fish cage production culture is another area that has room for tremendous growth. For this reason, USSEC is continuously working with the marine fish industry to promote and guide the industry toward better production systems. Globally, these types of systems are likely to be a key source of supply for marine fish moving forward.
The farming of shrimp is another area with room for increased use of U.S. soy. As a high-value species with importance in international trade, USSEC is working with shrimp farmers to demonstrate how they can have more targeted feed and feed systems that meet the needs of the system they are using, whether they are using traditional or high intensity shrimp production methods
Freshwater Hatchery Improvement is a new activity that USSEC consider it as the most important input for freshwater aquaculture development. To provide large quatity and high quality of seed and fingerlings for fish production more efficiently, hatcheries and nursing farms must be improved. USSEC will guide the industryon how to improve this via trainings, workshops and demonstration in Vietnam and SEA region as well.
USSEC provides these resources to the aquaculture industry without profit in order to bring knowledge and value to farmers in Vietnam, initiatives that further enhance their competence and competitiveness.
If interested in more details, please contact

Bui Ngoc Thanh

Northern Vietnam Technical Manager

Mobile: 0868336979

Email: thanh@ct.ussec.org