Aquaculture
Farmer Phan Van Mat was granted the title of "Farmer of the year in 2021"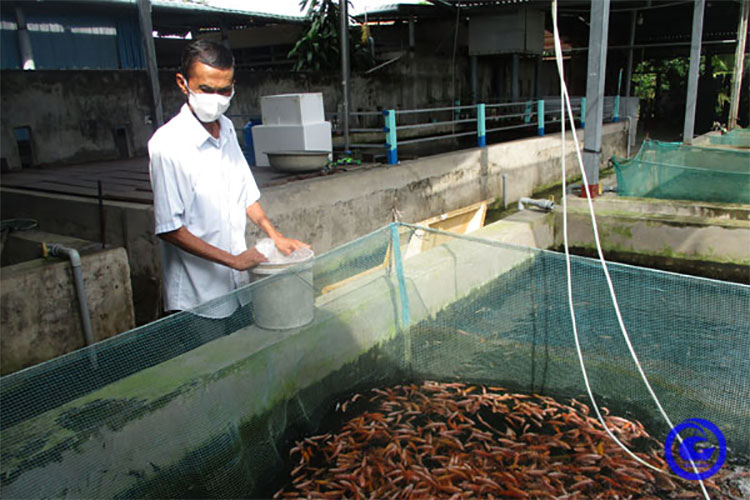 The Farmers Association of Châu Thành region (Tiền Giang region) has recently said that rancher Phan Van Mat (born in 1951) with the normal name Tu Mat, living in Đông village, Long Định cooperative, was picked to be respected as "Vietnamese excellent farmer the year 2021", will get back to Hà Nội to go to the respecting service toward the beginning of December 2021. 
Mr. Mat fosters the family economy with the model of "Fish raising and fish business, plantations". With a space of ​​16,000m2, he burns through 1,500m2 in nursery fish and 6,000m2 in fish cultivating to develop yellow rice longan. He said that his family had been bringing forth fry available to be purchased for quite a while because of the entirely ideal area, close to National Highway 1A, the interest for ranchers in the region and the western areas around then was very huge. His fingerlings are extremely appealing. At first, the cultivating region was little, then, at that point, his family's base was step by step extended. In spite of the fact that utilization is solid, yet cultivating methods are restricted, so the efficiency isn't high, the family's economy is as yet confronting numerous challenges. 
In 2000, Mr. Mat was presented by the Provincial Fisheries Extension Center to the Mekong River Project with the capital venture, seed support, around 20 million VND (non-refundable) in the model of counterfeit rearing fish, with 02 kinds of fish and simultaneously, the venture staff came to give specialized direction, from which he acquired insight and enthusiasm for fish cultivating. From 2016 up to now, the nursery has become an ever-increasing number of helpful, his pay is improving and better. He has both sold seed and raised business fish with excellent fish, for example, Salmon, snakehead fish, and so on Sleek catfish, dark catfish. After the cultivating time frame, around 02 – 03 years of being sold, the cost of each kind is from 200,000 to 300,000 VND/kg of business fish. Last year alone, he acquired a benefit of over 1.9 billion VND. The pay from longan alone is in excess of 100 million VND/year. As well as raising lakes at home, he likewise puts resources into business fish cultivating with a space of ​​08 hectares in Dong Thap and a few regions in Tân Phước region. 
As well as improving himself, Mr. Mat likewise makes standard positions for 21 specialists, with a steady pay of 4.5-05 million VND/individual/month, and simultaneously, upholds youthful fish for 10-15 helpless families (worth 90 million VND) with specialized guidelines for care. Accordingly, consistently, there are 03 – 05 families with the financial turn of events and pay emerging from neediness. The Commune Farmers' Association dispatched the development "Ranchers cooperate to construct new country", his family elected to help fingerlings for helpless families in the collective with a year worth of more than 120 million VND and numerous different commitments to the local area assets such as the Front and mass associations nearby. 
On account of his dynamic in useful work, for a long time, Mr. Phan Van Mat has been perceived as the title of good rancher underway and business at the common level, and in 2018 he was granted a Certificate of Merit by the Prime Minister. 
Mr. Nguyen Thanh Son, Chairman of Long Dinh Commune Farmers' Association remarked, Mr. Phan Van Mat is extremely productive and dedicated. After numerous long stretches of examining and finding out with regards to fish cultivating strategies and developing business fish, he accomplished great outcomes, from which his family's financial pay step by step rose to become rich. Specifically, he additionally effectively upholds nearby experts in destitution decrease, assisting helpless families with having stable positions…