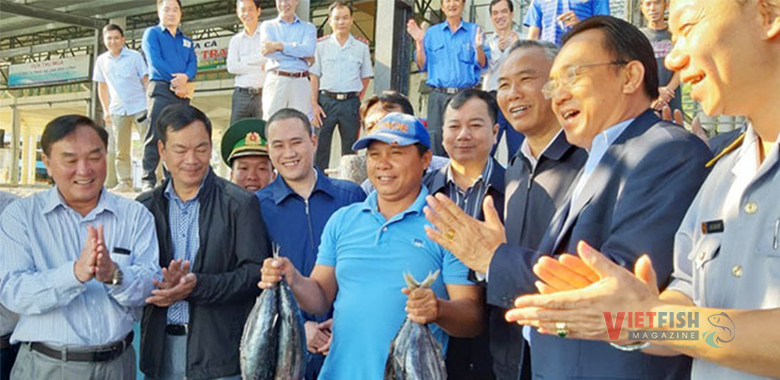 On the morning of 29 January (the fifth day of Tet Holiday), the delegate of the Ministry of Agriculture and Rural Development led by Deputy Minister Phùng Đức Tiến and representatives of Khánh Hoà People's Committee welcomed the fishermen who had spent their Tet Holiday fishing and now came back at Hòn Rớ Fishing port of Nha Trang city.
On behalf of the leaders of the Ministry, Deputy Minister Phùng Đức Tiến talked and exchanged information with the fishermen about seafood exploitation after giving new year gifts to the owners of active boats in Hòn Rớ Fishing port. The crew has set forth for tuna catching since mid-December of lunar calendar. Favorable weather enabled them to land bumper catches at this season and so did many coastal provinces during Tet 2020.
The Quảng Nam boats came back with their compartments full of fish and shrimps. The early fortune seemed smile on fishermen who are expecting a successful new year. The Núi Thành ports have welcomed fishermen coming back with hundreds of tons of fish from the Paracel Islands. Fishermen said that they got bumper catches at this season, mainly pompano. Moreover, they were so enthusiastic with higher price of seafood in the Tet Holiday run-up.
Phan Thiết, Phú Hài and Bình Thuận ports were happy with boats full of wild caught species. The trading started to get "busy" while the buyers talked happily with each other about the "new year fortune from the ocean", which were mainly ribbon-fish, herring, and mackerel with selling price ranging at 40,000 – 50,000 dong/kg.
VFM