Aquaculture
Hà Nội to tighten control cage culture in rivers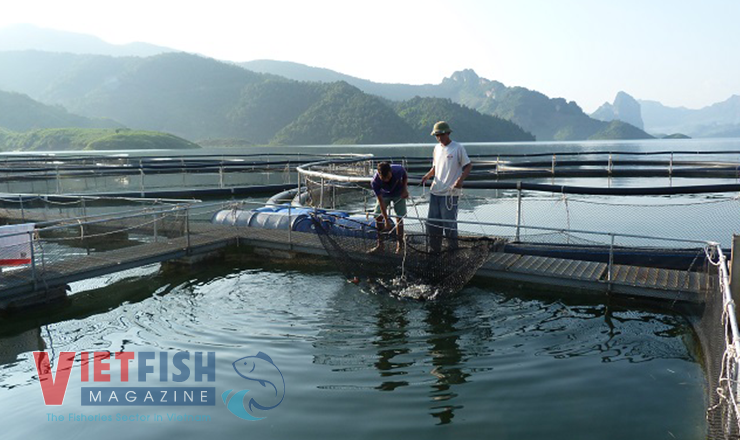 Hà Nội Fisheries Sub-department has just issued an Official Document no.228/CCCT-NT requiring People's Committees of districts and towns to enhance their management in cage culture around the city.
According to Hà Nội Fisheries Sub-department, fish farmers have suffered heavy loss when their farmed fish in cages in Red river were found dead due to polluted environment and diseases. In order that cage culture follows the Government's regulations, brings high efficiency and assures food safety standards, Hà Nội Fisheries Sub-department requires People's Committees of districts and towns involved in cage culture to introduce regulations of cage culture to fish farmers. Cage culture around Hà Nội city needs stronger management, review and statistic to prevent spontaneous and unregistered farming.
When disease or natural disaster occurs, authorities of farming areas team up with Hà Nội Fisheries Sub-department to review and give prompt solution. Farmers then will be guided to report their damage so that they will be supported in accordance with regulations. Financial support will be distributed from local contingent budget. If the support exceeds half of it, Hà Nội City People's Committee will consider taking some from the Natural Disaster Prevention Fund, the city's contingent budget, and other legal resources.
Facilities involved into cage culture must register their farming activities with Hà Nội Fisheries Sub-department. As regulated, cages must be installed in planning areas for aquaculture development or places where are approved by local authorities, not affected by flood, waterway vehicles and polluted resources. Cages must be equipped technique which is suitable with species and farming models. Cage installation must satisfy regulations of environment protection, work safetyand food safety.
In case of disease, natural disaster, or unusual environmental changes,cage owner mustpromptly report to local authorities, take sample of infected species and water for testing, and inform veterinary officers of the commune or the closest fisheries station of the situation.
VFM