Aquaculture
Hà Tĩnh: Oyster farming at the base of Cầu Vọng mountain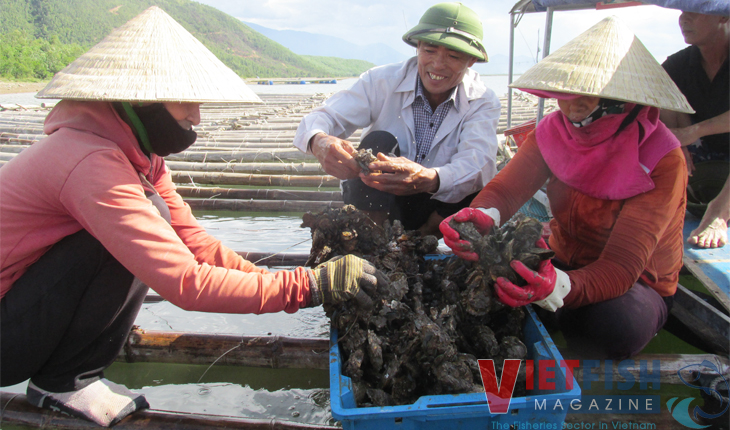 Farmers of Kỳ Hà commune of Kỳ Anh town have been taking advantages of water surface to develop their aquaculture with oyster farms at the base of Cầu Vọng mountain bringing high economic efficiency.
Farmer Hoàng Văn Thường in Bắc Kỳ village of Kỳ Hà commune is one of pioneers who experience aquaculture practices around the base of Cầu Vọng mountain. He invested into 2,500 oyster seeds in ropes on 100m2 cages and harvested two tons of adult oysters in 2017. Those were sold averagely at 20,000 dong/kg, leaving him some interest of 15 million dong/crop. "The cage can be used for three crops. Hence, I just had to spend money on buying oyster seeds in the second and third crop. It is cheap and easy to grow oysters as they use natural feed from the water. I just occasionally check and clean the water-plants attached to the raft and seed ropes. I may earn profit of 25-30 million dong per 100m2 raft in the second and third crops", shared Thường, who had three years of culturing oysters successfully. He has either widened his farming area or tried with fish cages, making him earn over one million dong profit annually.
According to experiences of local farmers, oyster stocking should occur twice a year and April is the most suitable time. Around 500 oyster seeds ropes can be stocked on 100m2 raft with each producing 5 – 6 kg of adult oysters after 3.5 – 4 months.
Chairman of Kỳ Hà Farmer Society Lê Tiến Sỹ said "The realized profit from oyster culture has urged more local farmers especially the poor to make their investment. Total area of oyster farms was just one hectare owned by 7 households while it is 3.5 hectares by 33 households. The Society will continue to propose institutions to transfer oyster farming techniques to local famers to help them raise productivity".
VFM