Aquaculture
Improve the shrimp value by changing the production technology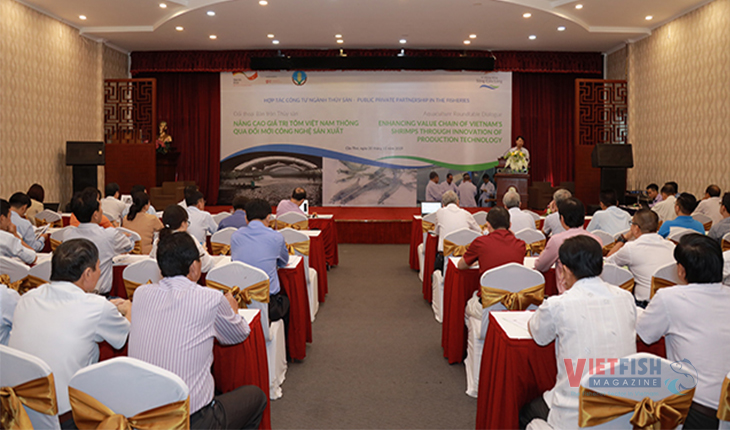 That was the topic of the Round table talk of the Fishery industry 2019 held by the Directorate of Fisheries (of Ministry of Agriculture and Rural Development) in association with the German International Department (GIZ) upon the frame of public-private of the fishery industry dated 20 November 2019 in Cần Thơ.
Vietnam is the third largest producer and exporter of seafood in the world with shrimp products taking up a significant position. And yet, speaking at the talk, most of the delegates agreed that Vietnamese shrimp sector encounters some challenges in small-scale production which fails to meet the increase in productivity and centralized quantity needed to boost the chain and competitiveness; moreover, the production cost of post larvae, feed, medicine, and material is higher than other countries in the region. More importantly, the appliance of technology is not so popular that the environment is not well controlled.
The delegates assumed that Vietnam's shrimp sector will be facing the fierce competitionfrom other markets and technical tariff due to trade and labor freedom. Thus, those related to the shrimp sector including producers, processing companies, exporting companies and suppliers of post larvae, feed and medicines are playing the important roles in determining the value chain. Besides, Vietnam's shrimp sector needs to take its own advantages by improving the farming technologies, environment control system, clearing the production input and improving the implementation of measures for quality enhancing. Plus, a trademark must be set up to assure that the Vietnamese shrimp can affirm its global competitiveness.
The Deputy Director of the Aquaculture Division Trần Công Khôi affirmed in the talk: "We need to improve and promote further cooperation between the companies and their partners, including the international organizations, non-government organizations, and producers, to assure the sustainability development of the fishery industry and shrimp sector. We need to put high priority in adopting the advanced technology to improve the value and competitiveness of the Vietnamese shrimp and other seafood. The participation of parties will help exploit the transparency policy of the information of production input, enhance the cooperation in the supply chain, build a platform for the cooperation between the public sector and private sector, increase the benefit by reducing the input cost to optimize the competitiveness".
VFM