Aquaculture
Island commune sees positive changes thanks to caged lobster farming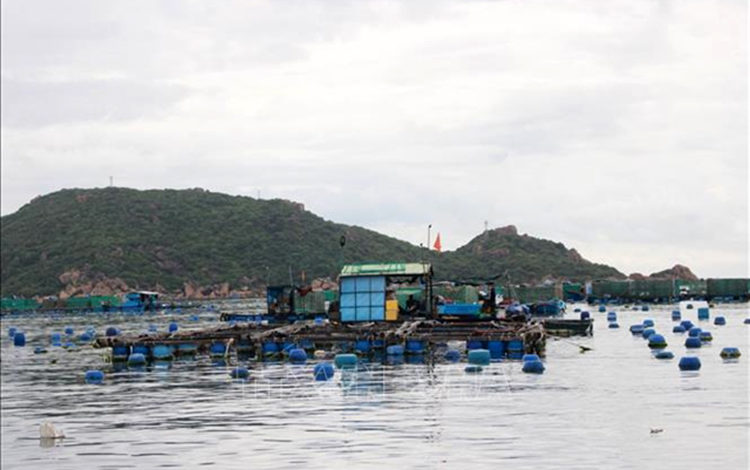 KHÁNH HÒA  – Cam Bình island commune has long been famous for its two islands – Bình Ba and Bình Hưng – as well as the local trade of caged lobster farming.
According to Chairman of Cam Bình Commune Farmers' Association Lâm Tuấn Anh the aquaculture area of ​​the whole commune covers nearly 90 hectares, with 58 ha on Bình Ba island and 30 ha on Bình Hưng.
There are 469 floating rafts with nearly 20,000 aquaculture cages, most of which are for raising green lobsters.
The commune is in Cam Ranh City, Khánh Hòa Province.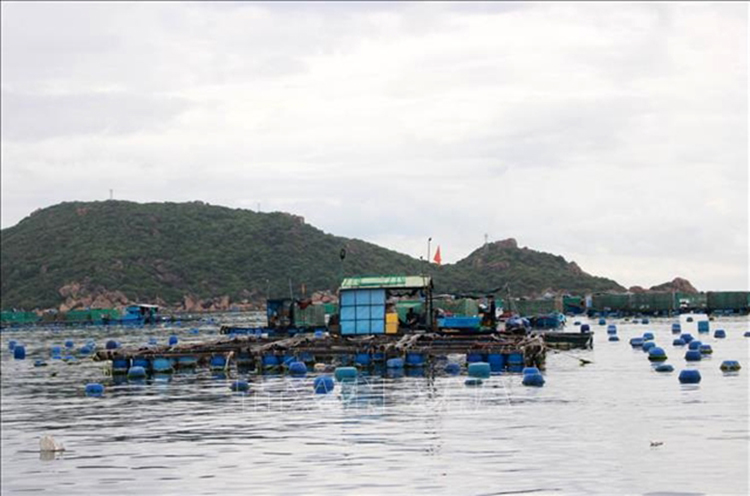 Caged lobster farms in Cam Ranh Bay, in the island commune of Cam Bình, Cam Ranh City. — VNA/VNS Photo
Caged lobster farming had brought high incomes to local households, contributing to local socio-economic development, Tuấn said.
"If the price of green lobster is over VNĐ1.2 million per kg, farmers will make a profit of VNĐ25-40 million per cage. However, the price of lobster is volatile depending on the season, so farmers are concerned," Tuấn Anh said.
"Thanks to lobster farming instead of fishing at sea, the lives of the people of Cam Bình also improved," he said.
However, households received little in the way of support when storms and bad weather cause damage.
For example, during a storm at the end of 2021, farmers lost hundreds of billions of đồng, but the farmers' association only provided loans or rescheduled debts.
Nguyễn Ân, Chairman of the People's Committee of Cam Bình Commune, said that the commune had existed for hundreds of years.
Ân said that he first came to Bình Ba in 2009 when there were few houses on the island.
However, only a short time later, when implementing socio-economic development programmes, including new rural areas, the appearance of the island communes changed.
Cam Binh was one of the first ten communes of Khánh Hòa Province to meet new rural standards in 2014, with all village roads being concretised, alleys cleaned and the tourism sector developed. Two new wharves were also built on Bình Ba and Bình Hưng islands, Ân said, adding that a new two-floor market was built on Bình Ba island too.
The commune health station met national standards and had a substation in Bình Hưng Village. People on the island communes used clean water. In the dry season, they still had enough water for domestic use.
The commune had been investing in building cultural houses and sports areas. All four villages had cultural community houses. The commune had two post offices located on two islands and six internet access points that serve people's postal and telecommunications needs.
In 2019, the average income per capita reached VNĐ51.3 million, mostly thanks to caged lobster farming, Ân said.
However, since 2020, due to the negative impacts of the COVID-19 pandemic, people's incomes in the commune had been affected, which was a great challenge for the authorities and people of Cam Binh island commune.
"We recommend that people stock lobsters to keep a balance between supply and demand, to ensure that the output price of lobsters does not slip and that farmers do not have to invest much. In particular, the commune's specialised agencies work with the people to carry out the one commune–one product (OCOP) registration procedures to raise the price of lobsters as well as stabilise the output market in the long run," Ân said.
Visiting Cam Bình on the unseasonal rainy days early this month, lobster cages were seen all around. Close to the wharf, there were dozens of fishing boats moored after returning from fishing trips.
Võ Ngọc Thị Mỹ Hiền, Chairwoman of the Women's Union of Cam Bình Commune, said that in the past, visitors used to have a bad impression of local lobster farming due to the waste discharged.
The Commune People's Committee coordinated with other departments and agencies to call on people to collect garbage and protect the environment. The commune formed self-governing groups on a small scale to ensure the rights and obligations of their members in the development of specific local industries as well as protect the environment and reduce diseases among seafood.
"Things on the island commune have changed gradually and the environment is now much greener and cleaner," said Hiền.
Phan Ngoc Huy, a resident of Binh Ba, said that many families became rich thanks to lobsters.
"There was a time when people continuously expanded their shrimp farming. Over the years, the water in the farming area was very polluted while the price of shrimp was also unstable," Huy said.
In the last few years, lobster farming was not as profitable, he said, adding that he switched to offering tours for visitors to the island.
However, due to the COVID-19 pandemic, his business was negatively disrupted, he said, expecting that once the island entered a new normal, its tourism and agriculture sectors could develop better.
Source: vietnamnews