Aquaculture
Ninh Thuận: Develop shrimp fry into key agricultural product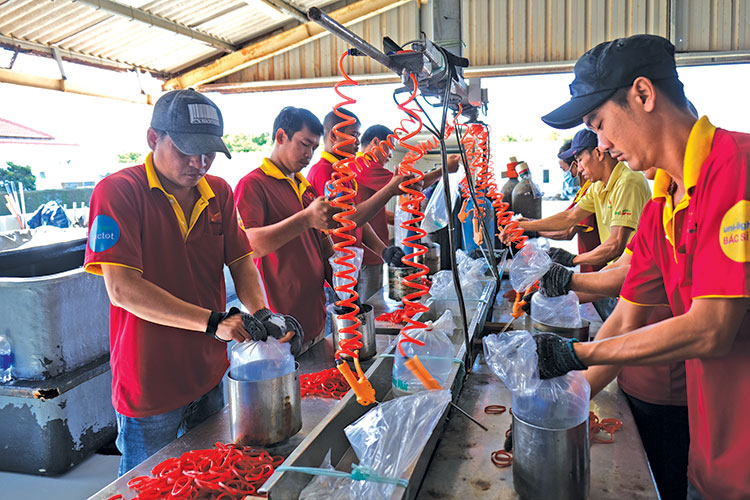 Ninh Thuận sets a target of attracting investment for further production of shrimp fry, aiming to become a center of high quality shrimp fry with an output of 50 billion PLs by 2025 so as to provide all farming areas nationwide.
Boost production
According to Ninh Thuận provincial Department of Agriculture and Rural Development, shrimp fry is one of the key agricultural products with competitive advantage in the province. The production of shrimp fry has been invested and developed for recent years, with an increase in the number of facilities, businesses and production capacity, meeting 35% of the demand for shrimp breeding stocks nationwide.
Ninh Thuận's shrimp breeding stock was granted the Certificate of Trademark by the Intellectual Property of Vietnam in 2018. The trademark "Ninh Thuận shrimp breeding stock" has been highly evaluated by the domestic market. The province is supplying shrimp breeding stocks to most of the coastal localities from Quảng Ninh to Cà Mau, mainly southern provinces such as Cà Mau, Sóc Trăng, Bến Tre, Kiên Giang, and Trà Vinh.
According to statistics by Ninh Thuận provincial Department of Agriculture and Rural Development, the province had 450 facilities of production shrimp breeding stocks. With good signs in production and sales of shrimp breeding stocks in earlier this year, all 450 facilities are operating and tend to produce 40 billion PLs in 2023.
As many as 415 facilities were granted Certificate for qualified nursery facility of aquatic breeding stock by the provincial fisheries industry; 100% of shrimp fries have been tightly controlled for quality and fully quarantined before shipped to buyers. Moana Ninh Thuan Co., Ltd and Viet Uc – Phuoc Dinh Co., Ltd are two businesses producing and domesticating high quality SPF shrimp breeding stocks for domestic production and export purposes. Moana Ninh Thuan Co., Ltd has provided 18,000 – 24,000 parent black tiger shrimp per year. Besides, Viet Uc – Phuoc Dinh Co., Ltd has produced about 30,000 pairs of parent white leg shrimps.
Center of shrimp breeding stocks
The province focuses on investing and finalizing essential infrastructure of a hi-tech aquatic breeding stock center in An Hải commune (Ninh Phước district) and Sơn Hải village of Phước Dinh commune (Thuận Nam district).
Ninh Thuận plans to have 10% of the facilities producing at least 0.5 billion breeding stocks per year by 2025, with the output of 50 billion breeding stocks, 30% of parent white leg shrimps, and 40% of parent black tiger shrimps for high quality and SPF assurance.
The province plans to have 100% of the facilities to be supervised for disease safety as regulated, especially dangerous diseases, and 100% of shrimp breeding stocks to be quarantined for regulated quality and disease safety before they are exported.
The province also focuses on building and finalizing a centralized system of collecting trash and treating wastewater as regulated so as to take advantage of the biosafety and disease safety system built by local aquatic breeding stock production and nursery facilities upon IOE's recommendations. Besides, the province is promoting and advertising the image and promptly handling counterfeit labels.
Ninh Thuận is making an effort to become a high quality center of shrimp breeding stocks in the country. Ninh Thuận asks the Ministry of Agriculture and Rural Development for their support to expand some environmental survey locations in the Nhơn Hải centralized breeding stock production zone and invest into technical facilities here.
VFM