Aquaculture
Phú Yên: disease outbreak puts shrimp farming areas in danger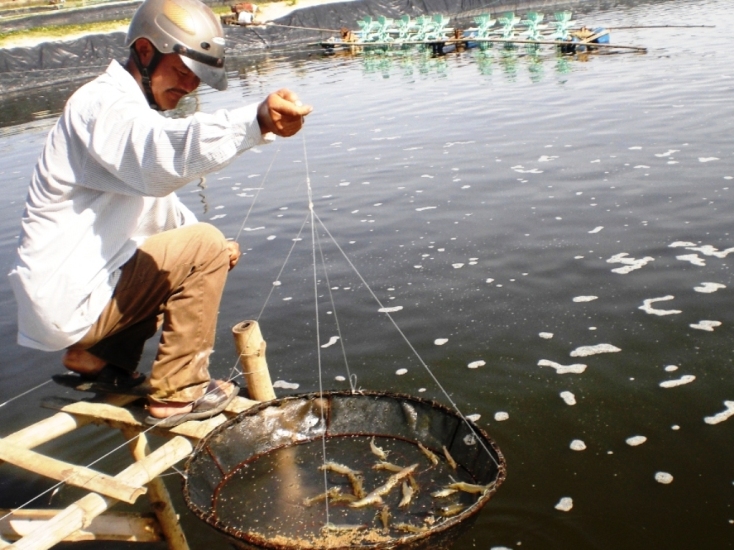 According to the Department of Agriculture and Rural Development, since earlier this year, shrimp stocking area in brackish water has reached around 1,500ha, mainly in Đông Hoà, Sông Cầu towns and Tuy An district. However, due to disadvantages in weather, summer heat, and negative environmental concerns, making it hard for farmed shrimps to grow up and leaving some disease outbreaks.
Weather disadvantages
Nguyễn Văn Sanh, shrimp farmer in Hoà Hiệp Nam ward of Đông Hoà town said: "We stocked shrimps in three ponds of 2ha. Despite careful rehabilitation and selection of white leg shrimp from credible suppliers, shrimps failed to weigh up and disease occurred nearly after two months of stocking. Dead shrimps scattered, making us decide to harvest. Thus, as shrimp didn't reach harvest size, prices were low and we suffered from a loss of 20 million dong. In the second crop, summer heat and sudden rain made shrimps weaker and grow slowly. After around three months of cultivation, despite shrimps being uninfected with diseases, they didn't weigh up, leaving low output and a loss of around 15 million dong. We are stocking the third crop on two ponds of nearly 1.5ha, the rest one is used for reservoir and treatment before supplying water to grow-out ponds"
Nguyễn Bảy, a shrimp farmer in Hoà Tâm commune of Đông Hoà town said "My family stocked shrimps in two ponds of nearly 1.6ha, were break-even in the first crop and earned few profits in the second one. That was attributed to weather disadvantages, making shrimps be weaker and not weigh up. Many households are stocking for the third crop but worrying about prices as they are falling. Once sold at 102,000 – 105,000 dong/kg earlier this year, 100 count shrimps are now ranging at 85,000-90,000 dong/kg.
According to Nguyễn Thị Bích Thuận, Head of the Economic Office in Đông Hoà town, farmers in Đông Hoà town stocked brackish shrimps in 940ha farm, mainly white leg shrimp. The Đông Hoà's People's Committee directed local shrimp farmers to promptly learn the situation of disease outbreaks, implement measures and use chemical substances to contain the outbreak, preventing spread and reducing damages. So far local authorities have checked and given instructions of prevention and treatment of diseases, and provided 450kg of Sodium Chlorite 20% to tackle infected shrimp ponds.
Supervise and contain the disease outbreak
According to sub-department of Livestock and Animal Health under the department of Agriculture and Rural Development in Phú Yên, the province has more than 120ha of brackish shrimps infected with white dot disease, acute hepatopancreatic necrosis disease, red body due to polluted environment. Most disease outbreaks occurred in large scale grow-out ponds. Some uninfected ponds were not reported and self-treated by farmers, leading to high risks of spread. The sub-department checked the disease outbreak and prevention activities in prefectures so as to remind and instruct local authorities and farmers to strictly follow the disease prevention measures. The sub-department worked with local authorities to provide Sodium Chlorite 20% sponsored by the provincial People's Committee to clean and prevent disease outbreaks in seafood grow-out ponds.
Ngô Xuân Lai, Deputy Director of the Agriculture Breeding Center under the Department of Agriculture and Rural Development said that the testing results of a water environment survey in provincial brackish water farming areas showed that some criteria exceed the threshold. In particular, in some farming areas, NH3 level reflected a 1.5-1.6 fold increase, NO2 level was on 1.9 fold increase, PO4 was on 1-1.9 fold increase, dissolved oxygen exceeded the threshold and ranged between 4.3 and 4.8 mg/l, and COD level was on 1.02-1.6 fold increase. As forecasted, due to summer heat, farmers of brackish water shrimps bring water to reservoirs, use probiotics to stabilize the environment, and check criteria before pumping to grow-out ponds.
Nguyễn Tri Phương, Deputy Director of the department of Agriculture and Rural Development requested sub-departments to team up with local authorities to hold training courses of disease prevention, supervise and learn the situation of disease outbreak for prompt instructions and treatment by chemical substances, and contain the disease to prevent spread. Sub-departments continue to work with local authorities to check and supervise imported broodstocks and strictly handle untraceable ones or the ones lacking quarantine certificates and disease testing results. Prefectures must adopt strict treatment measures on cases in contravention of discharging wastewater from infected ponds out to the environment.
VFM